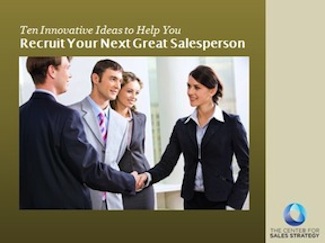 It seems like every day there are more and more articles written on how to recruit and hire the next great sales person. Unfortunately all of these articles seem to say the exact same thing. Those of you who have been at this a while know there are some trusted methods that seem to produce better results than others. We've compiled those ideas into an ebook where we share some of the innovative ideas that many top managers are using to hire great sellers.
Before you read on—a word of caution: simply knowing what to do is not enough; it all comes down to doing it.
10 innovative ways to recruit your next sales person:
1. Analyze the job opportunity
2. Appoint a Director of Recruitment and Selection
3. Determine your referral sources
4. Ask Nominator questions
5. Establish your company brand
6. Keep your eyes and ears open
7. Build a rock-solid Talent Bank
8. Ask your current sellers
9. Create an intern program
10. Use your website and social media
To see the details that bring each tactic to life and will identify top talent, download our free ebook.

Matt Sunshine is Executive Vice President at The Center for Sales Strategy