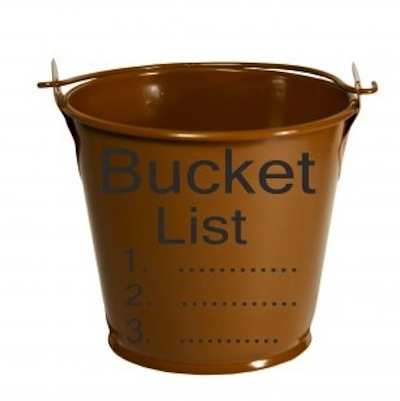 The Bucket List was a fairly popular movie a few years back about two men who go off on a road trip with a wish list of things to do before they die. It was directed by Rob Reiner, and it stared Jack Nicholson and Morgan Freeman. It's not that important to have seen the movie—you get the gist… it's the ultimate list of things you would love to have happen, or be able to do, at least once in your lifetime. That got me thinking about what the ultimate bucket list or wish list for a sales manager would be. I invited several of my colleagues to help compile this list, which is certainly not a complete list, so I invite you to add to it in the comment box just below. Let's have some fun with this….
A sales department with zero percent turn over for 1 solid year.
A week with no emergency emails after 6 p.m. that "absolutely have to be dealt with right now."
A year of making budget in every category and every line that is measured.
Accurate pending.
No money sitting in 90 or 120 days past due.
High fives and celebrations in the office every day for great work being done.
No HR issues.
Hiring a sales person who has no experience but is loaded with talent, and through excellent coaching, seeing them go on to ultimate success.
Helping a seller close a 7-figure deal.
Telling a bad client you no longer want to do business with them— no matter how much money they spend.
Hiring a sales assistant for every seller on the staff.
Following through on, and implementing, 100% of the sales strategy plan that you developed before the start of the year.
Receiving more referrals than you can handle with your current sales staff.
Offering gas cards and client entertainment budgets like the old days.
A complete sales team of professionals who take ownership of their business as if it were truly their own, and who dedicate time to sharpening their skills.
A year without excuses for coming in late, having to leave early or not showing up to work.
Reducing the number of meetings and reports needed from managers so that the majority of the work week is spent in the field coaching sellers.
Reactivating 25% of the accounts that spent money in 2010 and spent zero in 2011.
Fill all open sales positions with talented people.
All significant clients ask for a rate increase.
Your boss partners with you to help you develop and grow—just like you do for your sellers.
Creating an innovative new process or system that helps your sellers be more successful.
At some point, every single person on your team shares with you a specific way you've helped them grow.
Developing a killer sales marketing plan that clearly differentiates your sales department from all others in the minds of business decision makers—and ultimately enhances the results of FIND and APPROACH for your sellers.
The CEO of your company creates an award for sales managers that recognizes sales management excellence and you win it.
Every seller has a buttoned up, specific plan for Key Accounts and Target Accounts and executes it flawlessly.
By the end of the year, every seller has at least one business development story that they are proud to share.
You have the autonomy to make sure your sales compensation promotes the activities you need from your sales people—building key accounts.
The ability to spend money, as long as you have a reasonable plan for how it will make money.
Sales people who take more notes on their sales calls than you, as their manager, do.
Sales people who, after completing the 3R/How Selling steps, ask for the order.
A client-focused attitude from every department, not just sales.
Your company understands that the primary job of a sales manager should be conducting individual focused meetings on key and target accounts, and spending time on in-field coaching days with sales reps.
There is clear and concise communication about weekly priorities.
Having the people and the resources to consistently deliver strong solutions to clients.
Reducing the attrition rate among key accounts to less than 10%.
Having a sales structure that allows your salespeople to spend 80% of their time uncovering needs and selling solutions.
Sellers get appointments with qualified prospects on the first try.
Having a sales person tell you that you helped change the outcome of her/his career... for the better.
Being proud of the business you have done… and the way you do it.
What about you? What's on your bucket list? Help add to this list in the comments below.

Matt Sunshine is Executive Vice President at The Center for Sales Strategy.