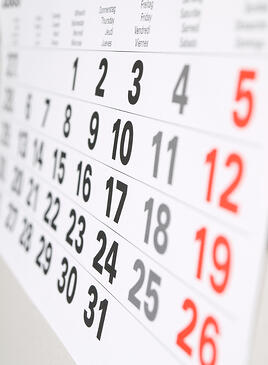 The first year of inbound marketing can be a challenging one. Finding themselves at the low point on the ROI curve, some companies decide an inbound marketing program is just not worth the time and money—and they throw in the towel.
I hope this blog post will provide some encouragement and some reasons why stopping after one year doesn't make sense. You'll see why increasing your efforts in year two makes much more sense than sending your blog to the inbound marketing graveyard too soon.
Expectations
Your decision a year ago to start an inbound marketing program was to increase leads, to establish yourself as a thought leader, to get more into social media, and to generate more traffic to your website. You've seen some success on all those parameters. You've also seen some spam comments and a few unqualified leads, and you probably spend more time than you expected learning new software and writing blog posts. You're right at that point where you've seen the worst of it—and the best is yet to come.
One Year Later
On balance, it's been a good year: You have a number of good leads entered into your database, you've been asked to write a guest blog on an industry website, your social media reach is up by 230%, and website traffic is up 130% year over year. Those are some impressive results for the first year, but for some reason it's not good enough. You haven't closed a dozen deals as you had hoped you would, and you don't have 10,000 followers on Twitter or 1,000 likes on your Facebook page. And to top it off... each blog post you have written during the year only gets about 100 views per month.
ROI is more than $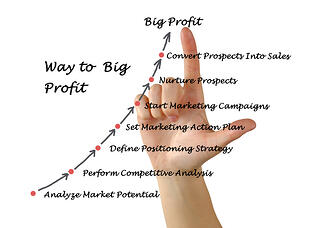 This is a common scenario after one year. It's at this point that many companies decide that, since they haven't gotten an ROI of 5 to 6 times their money invested, that it's best to stop blogging, stop producing premium content, and stop sharing via social media. It's like they've wandered through the inbound desert for a year and are about to enter the promised land of ROI, and they suddenly decide to quit.
This happens for two principal reasons:
Misunderstanding about the Return: The company's initial expectations were based solely on an arbitrarily-defined ROI number that didn't take into account a whole range of positive marketing outcomes such as becoming a thought leader, having available superior lead intelligence, and shortening the sales cycle, to name just a few.
Fatigue about the Investment: This follows naturally from the first reason. The Inbound team (sometimes it's just one person) put so much into the first year—with blogging two to three times a week (that's what we recommend), posting to social media every day, and creating premium content each month—that it just becomes too much to maintain month after month for what looks (often mistakenly) like very little return.
The moment you shut down your inbound marketing initiative, it begins to wither on the vine. All the good work you did loses its value quite rapidly. When you stop producing fresh content, it's like telling the "Google gods" (i.e., their search algorithm) that you've given up the ghost, that you're no longer interested, no longer serving or competing for customers. Your Facebook likes to your page will stop growing and you will never get to the elusive 10,000 Twitter followers you dreamed of. Your investment is already made, but that 5-to-6x return will never happen.
Instead, Increase Efforts in Year Two
The Promised Land is just over the next hill. If you continued or increased your efforts in year two, you will build upon what you started in year one and you'll discover the investment gets easier and the return gets bigger! Every additional blog post you write produces additional views and brings additional attention to the blog posts you have already written. Take a look at this blog post by HubSpot that shows the exponential increase in leads after you publish your 50th blog post. Let's do the math.
Let's assume you average about 100 views per month on each blog and you are getting one lead per 1000 views (1%).
Write one blog post = 100 page views per month and no leads
10 blog posts = 1,000 page views per month and 10 leads
50 blog posts = 5,000 page views per month and 50 leads
How long does it take to reach 50 blog posts? If you're writing 10 blogs per month (about 2.5 per week), it will take you around five months to reach the point where you can harvest 50 leads a month. Of course, it doesn't stop there. Imagine how great the return is on your investment once you have 150, or 250, blog articles posted—as long as you keep publishing.
To get 100 views on each blog post, of course, you can't just post and pray. You have to promote your blog! Use social media, show convenient social media sharing icons alongside every article, put links to your blog on your email footer, get employees to post on their social networks, get links on other websites, post on your own social sites, buy some pay per click ads, etc.
Don't Take Two Steps Backward
Here's one last thing to think about before you pull the plug on your inbound marketing efforts. Assuming you are using marketing software like HubSpot, Marketo, or Eloqua, you will lose all of the marketing automation and advanced analytics you have become used to.
You will go back to the "dark ages" and will no longer have your lead visit notifications, automated follow up emails, lead nurturing, advanced analytics, and other useful tools. You'll go back to not knowing when leads return to your site and which pages they look at (therefore, what their needs and interests probably are). You can re-subscribe to Google Analytics, but that data won't provide any leads for you to nurture or contact. You'll be back to making cold calls on suspects and trolling LinkedIn for leads.
Are you feeling "stuck" with your inbound marketing program or are you getting pressure from the company to close it down? If you're thinking about throwing in the towel, it might be time to get a second set of eyes on what you are doing. Watch the webinar recording of "The 4 Types of Companies in Need of an Inbound Marketing Makeover".