We're excited to share a sample of our new Sales Accelerator Series before we roll out access to the entire set of courses.
SAMPLE THE FINDING LEADS COURSE
We invite you to sample the Finding Leads course for free by filling out the form to the right.
Current Training and Resources Clients have early access to the courses as they are completed - log into Online Learning in the Resource Center.
ABOUT THE SALES ACCELERATOR SERIES:
The Sales Accelerator Series is an updated look at the customer-focused sales process, addressing how the sales process has evolved, and more in-step with how real selling is done today. It goes deep enough to build an effective, tailored solution, while moving fast enough to achieve acceleration.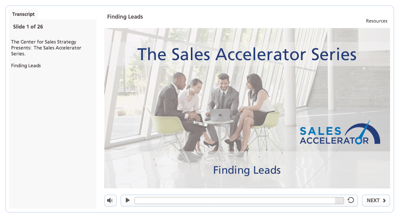 Learn more about the
Sales Accelerator Series HERE.

WHAT CLIENTS ARE SAYING:
"I LOVE it! I just completed the CLOSE section with the Closed Won and Closed Lost courses. Really appreciate the emphasis on implementation. I plan to talk this through with our team. It address a lot of the problems we have had in setting clear internal expectations that lead to renewal and growth."
-Taja M. Graham | Vice President of Sales
Want to learn more about the Sales Accelerator series?
CLICK HERE for more information or contact deanmoothart@csscenter.com.