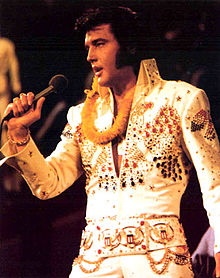 I bet you're thinking what does the phrase "don't give up" have to do with Elvis and what could this possibly be doing on a blog about Sales Strategy!!! Great questions, and in a second, I think it will all become very clear. Turns out, that Jerry Weintraub (Legendary Hollywood producer and promoter) practiced a principle that we talk about a lot at The Center: Don't Give Up!
Jerry Weintraub understood that having a great reason for wanting to do business with someone—or even a great idea—was sometimes not enough. Sometimes you have to have persistence to go along with the reason or idea. Please note that I said you needed persistence to go along with the reason or idea and not just persistence alone.
It's the combination of the two that makes it work. Anyway, I recently came across an article on Jerry Weintraub that described how, in his mid 20's, he was able to become the guy who promoted Elvis Presley's world tour. The story is fascinating (I've attached it here if you're interested.)
After having this grand idea come to him in a dream, he then found the right person to contact (Colonel Parker), and reached out to him. Of course, he was met with all the objections you would expect, but even with these obstacles he was persistent and did not give up.
Every morning for a year he called Colonel Parker. And every morning for a year he heard objection after objection—until one day he heard, "You still want to take my boy on tour?"
And the rest is history.
Today marks the 34th anniversary of The King of Rock n Roll's death. As many around the world remember Elvis today, I think as sales professionals we should also remember that if not for Jerry Weintraub and his "Don't Give Up" dedication we might not have seen Elvis on tour. (HA HA… I'm sure we would have.)
If you would like to learn a bit more about our Don't Give Up philosophy, go ahead and click on the button below and download the "Don't Give Up" document. Do us a favor and let us know how it works. We would love to hear your story.