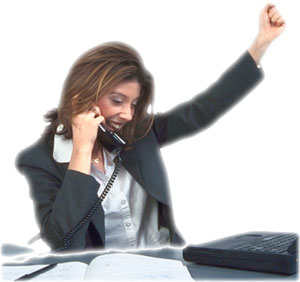 2012 is here! Time to start a new year. Time to start selling more! Most sales leaders and sellers agree that it is a good idea to sell more from one year to the next. Unfortunately, accomplishing this goal can be a challenge in these turbulent economic times. It's time to break the cycle. Here's a list of 5 simple steps that will help you start the year off selling:
1. Find and select a short list of new business prospects that will spend like your best customers.
2. Develop a plan of approach that will enable you to get that first appointment with the new business prospects you identified in step #1.
3. Meet with the prospect and define a significant business challenge or problem that is impacting their business. Here's a hint: the bigger the challenge, the more money a prospect will spend to eliminate the challenge or problem.
4. Solve the prospect's challenge or problem by developing a creative solution (tactic) that drives customers to their business, and bundle the solution (tactic) with the assets you sell.
5. Present the solution in a transparent, no-surprise proposal that consists of elements that have been previously discussed with the prospect. This type of no-surprise proposal tends to close quickly and more often.
Add all these steps together and you will start the year off selling using a process that creates a revenue stream built on results, renewals and referrals!
To find out more about ways to start the year off selling, check out Talent + Training + Tactics. It's a free White Paper chock full of additional insights designed to make 2012 a great year.
Kurt Sima is a VP / Senior Consultant at The Center for Sales Strategy.