At the start of 2013, Twitter introduced the world to Vine. The service quickly became popular, gaining more than one million users in its first three months. In fact, five Vine videos are shared on Twitter every second and a new study by Unruly found that a branded Vine is four times more likely to be seen than a branded video.
For those of you that are not familiar with Vine, it is a mobile video service that allows users to capture and share six seconds of looping video. Similar to Twitter, the shortness of the message brought about a large amount of speculation that the new service would cause marketers to rethink how they deliver their message. Would the six-second time limit cause marketers to be more creative with their video? The answer seems to be yes.
Several brands got creative and gravitated to Vine quickly. They used it to highlight their brand, to showcase their products in a new way and as a way to get users to create content about their brands. Now marketers are taking their Vine videos to another level. They are finding new and more creative ways to use Vine in their marketing efforts – they are using them for their TV commercials.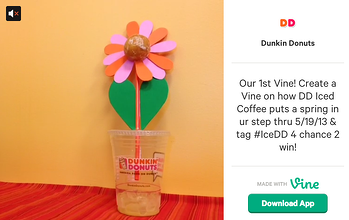 Early in September, Dunkin Donuts launched this new trend with a five-second spot that aired on ESPN at the end of the pre-game show on Monday Night Football. They felt as though a Vine video was a more creative way to engage the audience than the typical flash of their logo for five seconds. Trident Gum has also launched a TV commercial utilizing Vine video which uses some of the more popular Vine users as talent for the spot. Airbnb also used Vine for their first TV commercial, but they took a different route. They sent out a message via Twitter with instructions for submissions from users. The spot they created is entirely comprised of multiple six-second Vines submitted by users about paper airplanes.
While Vine is an easy and creative way to deliver a message, you need to be sure that you don't forget to deliver an effective message and not just a cool six-second video.
Here are a couple of tips to help create a fun and successful campaign with Vine:
Think creative.
Get to the point! You only have six seconds to get your point across, so be clear and quick.
Educate the consumer on new products or promotions that you have to offer.
Encourage involvement from consumers. Ask them to create content around your brand.
Create content that works in tandem and supports all of your other marketing efforts.
Are you using or recommending Vine in your marketing efforts? If so, please share what is working for you.
Download these FREE TIPS to begin increasing your digital sales performance!