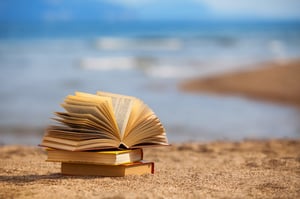 This is our second edition of The Center for Sales Strategy's summer reading list. If you missed last year's, here it is. We've compiled 9 books (nonfiction) that have inspired us over the last year.
9 Books to Read This Summer
Tina Rice, Elearning Developer:
"It's a wild ride full of risky behavior and swear words, and unbridled success."
Emily Estey, VP/Senior Consultant:
"This is a great book for me as a coach."
Tirzah Thornburg, Talent Analyst:
"My 12-year-old is massively introverted, and this book helped."
Dani Buckley, Inbound Marketing Consultant:
"This book provides so many great examples of brand positioning in history (beyond just the big marketing brands you're used to hearing about). The book even gets into positioning your own personal brand and the importance of that. It will change the way you look at advertisements, and hopefully the way you do business.
This is a MUST for anyone that works in business, and especially those who have anything to do with making marketing decisions. I also think it's an extremely valuable read for those in the media world, particularly advertising sales. There is so much you'll learn in here that will help your clients be more effective in their advertising and make you look like an expert!"
Greg Giersch, VP Client Experience and Director of Content:
"While written for managers, this book is good for anyone needing to lead a team and direct resources to create solutions, which would also include proactive salespeople."
Matt Sunshine, Managing Partner:
"The author gives concrete examples of how to use modern tools such as sales automation to close more business."
John Henley, Managing Partner:
"This is a great book on leadership."
Mike Anderson, VP Consumer Insights and Communication:
"This book shows that you don't have to have the most money to be successful."
Stephanie Downs, VP Senior Consultant:
"This book is about the strategies A.G. Lafley used to take Proctor and Gamble back to its former dominance."
What are you reading?