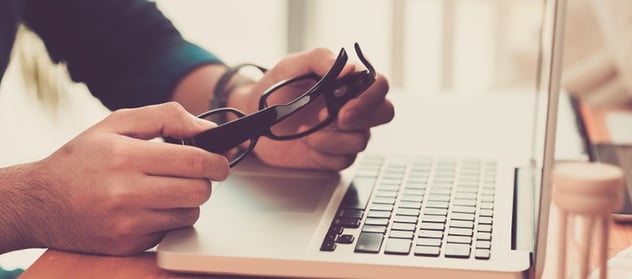 We hope you've had a great week! It's Friday, and today we're sharing what we've been reading online this week! Here are our "best" from around the web.
1

.

9 Strategies for Using Customer Testimonials in Your Content — Content Marketing Institute

We look for and act on (even if subconsciously) social proof in all areas our life – including how we behave and the purchasing decisions we make online. Testimonials are a type of review and social proof. They serve the same purpose (guiding potential customers and helping overcome objections), but they're different in one big way: Testimonials are sought and selected by you. This means you have full control over which testimonials are used, as well as where and how they are displayed. Here are nine ways to leverage testmonials in your content.
2. Artificial Intelligence is Changing Email - Get Ahead or Fall Behind — Seventh Sense

With the help of artificial intelligence, you can now know what content individual subscribers will find valuable, know exactly where they are in the buying/customer journey, and know when each subscriber is most likely to open and engage with your email. This is not only the future of email marketing, it's happening now. Here's what you need to know.
3. 4 UX Trends You Should Be Implementing on Landing Pages — Optimizely
There's nothing more annoying than browsing online, clicking an ad you're interested in, and being directed to a poorly designed landing page that doesn't offer you what was promised in the ad. People are impatient. If your landing page doesn't correspond to the ad they clicked or they can't easily see the benefits offered and CTA, they'll bounce. This article examines four UX trends that make your website experience a positive one and help increase conversion rates.
4. Facebook Lets Brands Blacklist Publishers — AdAge
Facebook is giving advertisers more control over where their ads run, allowing them to opt out of appearing near content from specific publishers, according to new policies announced this week. This article looks at the new options for marketers.
5. 14 LinkedIn Sales Navigator Secrets All the Best Prospectors Know — HubSpot
Want to become a prospecting superstar? LinkedIn Sales Navigator is a fantastic resource. It simplifies the process of finding, contacting, and staying up-to-date with prospects, referrals, and customers. Whether you're new to Sales Navigator or a veteran of the tool, these tips will help you take your social selling game to the next level.
---
This Week on The Center For Sales Strategy's Blog: