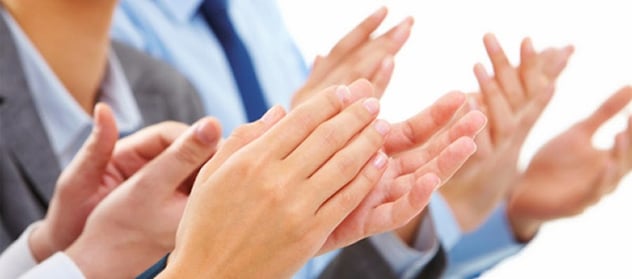 Is your sales meeting agenda something like this?

1) Housekeeping
2) Where we are
3) Where we need to be
4) Get there the way I tell you
5) Go do it
All this in 45 minutes…. No wonder you haven't gotten a standing ovation yet! Talented salespeople want to be nurtured—they want to get better at what they already do well. The agenda above does nothing to support that. It's time for a new agenda.

Salespeople like to make good use of their time, and if they're not out selling, you better make it worthwhile for them to be in a sales meeting. Take topics 1, 2 and 3—listed above—and send them in a regular weekly email. And work one-on-one with your salespeople to help them each accomplish their sales goals individually. Then use 30-45 minutes a week as a team for small doses of training on topics that are timely and relevant to their sales success.
Use these 5 steps to help engage your salespeople and create a plan for standing ovation worthy sales meetings:
Start with a sales meeting where salespeople determine topics they want to cover in upcoming meetings. In this meeting, take 10 minutes to brainstorm as a group to create a list of relevant topics to cover.
With your salespeople's involvement, narrow the list down to roughly 3 or more topics greater than the number of salespeople in your meetings. As an example, topics may include, "proposals that close," "negotiating premium price," or broader topics such as "getting significant appointments."
Tell salespeople that each topic will be covered within the 30 minutes of your existing sales meeting, and lead by a volunteer salesperson.
Have salespeople volunteer for topics that interest them and that you feel they are qualified to lead a discussion on. This can be done "draft style," or simply go around the room.
Have a 30-minute, one-on-one meeting with each salesperson a few days prior to that week's sales meeting topic, to make sure they are prepared—and coach them where needed.
While you may not literally get a standing ovation, you will win your salespeople over with engaging sales meetings that help them sharpen their skills. Time is money in their eyes, so help them see sales meetings as productive.