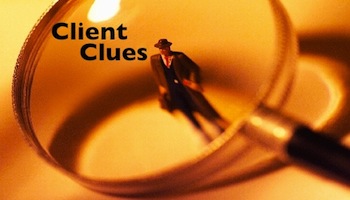 We often say that "the client's needs provide fuel and focus to the entire sales process." What better way to gain an initial picture of those needs than through the prospect's website, advertising, or publicly-available corporate reports? Some of the best prep work you can do might be hiding in a commonly available website.
Several weeks ago, I worked with an account manager who wanted to gain an appointment with a local/regional bank in her market. Preparing for our conversation, I spent a little time with the bank's website. Here's what I learned:
The bank is devoting its current home page to mortgage- and consumer-lending (finance your dreams). So I know this is a near-term priority for the operation.
The navigation bar places a rank-order on the institution's long-term priorities, which include personal lending, but also business banking (the #2 item on the list).
A sub-heading at the top of the page indicates that "a new and improved website is coming soon." Thus, I know that digital assets are an increasing priority for this bank, as they are currently investing time and money in an upgrade to their online presence.
The account manager I worked with has access to considerable research about her own company's products. But more importantly, she also has access to data that can be mined for information about her prospect's market. So now—after reviewing the prospect's site for evidence of what their priorities might be—she can pull information that is specific and pertinent to the bank she'd like to meet with:
In this case, the seller is a vendor of marketing solutions. She can study how many consumers in the market say they plan to buy a car, powerboat or other big-ticket durable goods in the next year or so; these are issues could relate to what might be—if the website is any indication—the bank's near-term priorities.
Her research resources can also give insight to those people who are self-employed or small-business owners in the market, something that might be of long-term importance to the bank, based on the high position Business Banking enjoys on the navigation bar of their website.
The seller already has access to a load of market research and other resources; by visiting the prospect's website, she can quickly decide which of that information might be most relevant to the company she is calling on. She can go from presenting information that is plentiful to presenting information that is meaningful.
What tips or tricks do you use to gain insight while gathering information to set the first appointment? Share them in the comments below.
Mike Anderson is VP Consumer Insights and Communication at The Center for Sales Strategy.