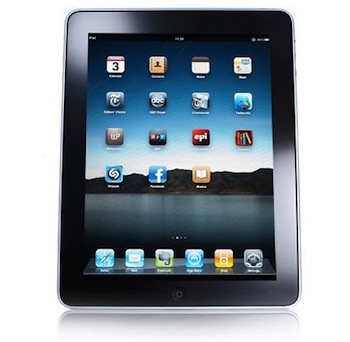 When Boston Scientific CIO Rich Adduci attended the first iPad reveal two years ago, he instantly knew the device would be a game changer for sales and marketing teams. He described the moment watching Steve Jobs walk onto the stage like a light bulb going off in his head.
"Trying to show innovative therapies in a way that is easy to understand and see was challenging in the old world, particularly as health care professionals' time was increasingly difficult to come by," he said. "When we saw the iPad for the first time, we all thought, 'that's it!'"
Within the week, the Boston Scientific team had scrapped all of its mobile planning and started from scratch. Today, the company has more than 4,500 iPad-equipped sales people and is seen as a model nationwide for effectively using the tool in the outside sales environment. Asked recently about the implementation he said it wasn't the device alone that increased his team's efficiency. It was the strategic mobile plan. Strangely, a recent study found that while 78 percent of employers plan to deploy tablets across their sales teams (83 percent of which will opt for the iPad), less than half have detailed a clear use strategy.
So for those readers in the majority (have iPads, but no strategy), I thought I'd offer some advice for making the most of your Apple upgrade. I interviewed a handful of expert mobile strategists for advice. They offered the following tips.
Monitor usage & make changes where necessary. Myriad companies have released tools for tracking sales activities on the iPad. Managers can use these tools to prioritize assets with the highest conversions and set usage goals and benchmarks. The SAVO Group created one such "sales enablement" solution that was recently named one of "The Top 11 iPad Apps for Sales." The company's Senior Marketing Director Dan Schleifer said the tool allows leadership to get a granular view on activities such as how many times a presentation is used, what analyses are reviewed, and the latest activity on important accounts, among other data. Also, managers can ensure teams are always showing the most recent marketing assets and deliver fresh materials as needed.
Create presentations that take full advantage of the iPad's vivid display. Experts said one of the biggest rookie mistakes is using the same PowerPoint presentations you created for your laptop. Don't get me wrong. This isn't going to damage your sales chances, but it's not going to help them either. Gary Galusha, Vice President of sales for UpSync, even called the practice a huge "missed opportunity." His company's tool allows sales teams to create interactive presentations on the go that make use of the iPad's pinch, twist, swipe and other unique display functions. Users can also combine images, videos, PDFs, HTML 5 and other digital assets. Previously-made presentations are easily searchable using the technology's meta tags. Viewers can also instantly share on social networks and rate the presentation.
Get a custom iPad solution. Ok, I know this sounds expensive, but (Excellis Interactive Marketing Director Molly Maple said not thinking about the big picture beforehand can end up costing you more in the long run. "Companies that build a bunch of disparate apps find it's not sustainable, then have to rebuild one platform and end up spending way more than they should," she said. Often companies just want to get something going and will launch an app for sales. But then they find out it doesn't include their scheduling tools, or they have to use a different software for signing contracts or sending an email. Forcing sales teams to manage a bunch of different applications can frustrate and actually discourage usage, she said.
The main take away here is don't expect the iPad to be a silver bullet for increasing sales on its own. Ultimately, it's up to management to craft an implementation plan that makes full use of the device.
Guest Blogger, Ashley Furness, is a Market Analyst for technology consultancy Software Advice. Her blog provides expert reporting on CRM software, Marketing Automation and sales strategies.
Learn how you can improve sales performance using a combination of Talent + Training + Tactics by downloading this white paper from The Center for Sales Strategy.