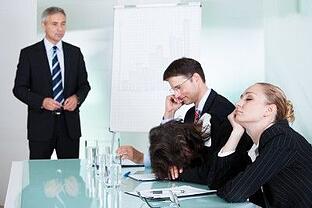 If you were to ask 100 salespeople why they hate sales meetings, and then take all of their reasons and put them in a giant pot, fill it with water, and turn up the heat… the myriad of responses would all boil down to one and only one reason; they believe they're a waste of their time!
High performing salespeople have extremely high work intensity. They have a list longer than the day to tackle, and they a have genuine need to be productive… at all times. They subconsciously evaluate every situation they're in, asking themselves "is this a productive and valuable use of my time?"
Sales meetings are important; I would even say they're critical for high performing salespeople. Following are some Do's and Don'ts for conducting valuable and productive sales meetings:
Do: Plan your meeting agenda ahead of time and then pass it out to each participant at the beginning of the meeting. This will help your salespeople quickly become engaged and systematically release tension, as they will see what the next hour will look like. An agenda will also help them follow along and get through the meeting by crossing items off one by one as they're discussed. Remember, high performing salespeople are notorious list makers and they find great satisfaction in crossing to-do's off their list, even if it's in the form of a sales meeting agenda.
Don't: Plan the exact same sales meeting every week! Keep the topics relevant and useful… change it up.
Do: Make certain the meeting can benefit every single person in the room. The topics discussed and the information relayed should pertain to everyone. Individual coaching and managing should be saved for one-on-one meetings.
Don't: Spend too much time on the numbers or regurgitating sales budgets and current actuals vs. goals. Your salespeople know what their budget is, and they want to meet it and then exceed it… so spend the majority of the time equipping them with tools and tactics to meet their sales goals.
Do: Incorporate a collaborative discussion during your sales meeting. High performing salespeople want to share their ideas, opinions, and thoughts. And most often their experience in the field could help equip other salespeople in the room. Collaborative discussions on focused topics, situations, customers, and programs are extremely valuable and useful. They often translate into best practices that can be applied immediately by other salespeople.
Don't: Go over the time you contracted for! If you communicated that your sales meeting will last an hour, make certain that everything on your agenda can be covered in one hour… and not a minute longer. If the meeting lasts longer than anticipated, your salespeople could be forced to leave early or be late for a previously scheduled client meeting. Lead by example and show your salespeople that you value their time by being prompt, and on schedule. This will help them experience the importance of partnering and contracting with their clients and prospects. This tactic will also help them emulate the behavior throughout the sales process.
Do: Make time to give warranted praise to the team and individuals during your sales meetings. Celebrating the success of your team, whether it be a specific sales person or the entire team, in a group session is powerful. It satisfies the need to be recognized and if you're giving praise to an individual it also spurs competition amongst the other salespeople, as they too want to be recognized. Giving praise regularly, when warranted, will drive performance. It's an incredibly positive motivational tool.
Don't: Force your salespeople to participate in an impromptu role-play! They HATE this probably more than anything. If you'd like to demonstrate an exceptional sales tactic, or showcase how to work through a specific objection during the sales process, then ask the sales person a few days before the sales meeting if they would mind participating in a role-play during the next sales meeting. Let them know that you've chosen them because they are exceptional and the other salespeople could learn from their participation. They should feel like they're being recognized for their talent… not like their being punished or forced into a meeting they're not allowed to prepare for.
Not to mention, impromptu client meetings are unrealistic… high performing salespeople always prepare for their client meetings even if they're just walking into a business for the first time hoping to find the decision maker to meet with her for 5 minutes. Keep it real, and always give your team time to prepare for a role-play!
Sales meetings are critical and can be extremely valuable. Salespeople should look at these gatherings as an opportunity to learn about important company directives that specifically relate to them, and affect the way they do business as well as increase their sales performance!
If your salespeople are regularly giving excuses to skip sales meetings, it's possible that they've deemed them to be a waste of their time. Take a step back and evaluate your sales meeting deliverables. It might be time to change your approach and revamp your meetings.
Here's an idea to try out: Create a short questionnaire to learn how your salespeople view your sales meetings. Allow them to answer anonymously to encourage truthful participation.
If you find that the vast majority of your team doesn't believe your sales meetings are a valuable use of their time, then recruit a few of your top salespeople to help you revamp your meetings to make them useful and relevant to the entire team. Asking your top performers to collaborate with you lets them know that you value their opinion, and they really like that! And because of this, they will champion your "new and improved" sales meetings to the rest of the team… they will be a positive force in changing your team's perception about the meetings!
Are you worried that your sales team isn't producing the revenue you need? Set up a free 30-minute call with one of our Performance Consultants!
Demrie Henry is a Performance Consultant at The Center for Sales Strategy