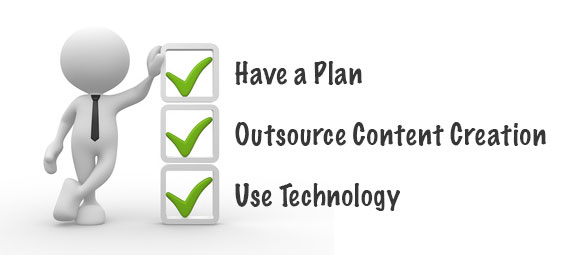 Recently while attending a meeting with a prospect and explaining the 7-Step Lead Generation process to them, and how they start to generate leads with inbound marketing, they made the comment that "inbound marketing is like understanding rocket science." This comment stuck with me and made it more evident than ever that to some, inbound marketing is not as easy to grasp as some experts make it appear.

Why is Inbound Marketing Difficult to Some?
If you understand Search Engine Optimization (SEO), social media, email marketing, and website design and have a great team of writers on staff, and have someone that can dedicate 10 hours a week or more to publishing blog posts and creating landing pages for your premium content, it's not really that challenging.
What? You don't have those skill sets within your company or the resources to dedicate to inbound marketing? It's okay… for those companies that don't have this expertise but are still interested in generating leads through inbound marketing there are plenty of ways to make the process easier and doable even for the smallest of companies.

How to Make Inbound Marketing Effortless
Well, you can't really make it effortless but you can do a few things to help supplement the resources you have available. Here are 3 steps to make inbound marketing easier:
1) Have a Plan

One of the most common mistakes made with inbound marketing is to just start blogging before you have identified your target persona. Without properly identifying your target persona, and knowing what your target persona is interested in reading and how they consume media, it's almost impossible to create engaging blog posts. It's often said, "You Don't Plan to Fail, You Fail to Plan" and that's never more evident than with inbound marketing.

2) Outsource Some Content Creation
Don't leave all of the writing to yourself or those who have volunteered to write content for your inbound marketing efforts. Trust me… for the first few weeks your team is excited to write blog posts and share content with their social networks. However, after the first 30 days or so you will start to hear complaints about how much time it takes to write a blog post or how we aren't getting enough leads yet to make allocating the time to writing worth it. The smaller your team, the louder the complaints will be.

How to get around the issue of creating content for your blog? That's where "Ghost Writers" or freelance writers come in. There are dozens of services that work with companies to help write blog posts and create content for inbound marketing. A few that we use are Zerys and Writer Access.

One of the most asked questions about ghost writing is how can someone write for my company or industry when they don't live and breathe it every day? While it's true that many blog posts might be best left to your internal team of writers many blog posts that require slightly less expertise can be written by a ghost writer. Most content creation services have a pool of thousands of writers and you can almost always find a writer that's up to the task of writing your article.

With ghost writers you have to make sure to give them a fair amount of direction and provide them with an understanding of the persona that they will be writing for and be willing to edit their work when it's completed.
3) Use Technology

Just as with the space program, having the best technology at your fingertips is the key to success with inbound marketing. Making sure that you are leveraging technology to it's fullest is very important with inbound marketing since it reaches across many different areas including blogging, social media, analytics and email marketing.

There are a number of inbound marketing software programs you can use including Marketo, Eloqua and several others but the one we have chosen to use is HubSpot. HubSpot offers the most comprehensive inbound marketing solution and does a great job of tying together blogging, email marketing, social media, SEO and analytics.

If you chose to just add a blog to your Wordpress site that's okay too. It won't be as easy as working with a comprehensive inbound marketing software solution like the ones mentioned above but will give you a place to host your blog. However, you want to make sure that you are using some type of social media publishing tool like HootSuite or Buffer to make sure that you are syndicating your content via the major social media networks that your target audience frequents.

Resources for Help
Okay, maybe there is a little "rocket science" involved. If you want to learn more about inbound marketing, check out a few of our resources here.