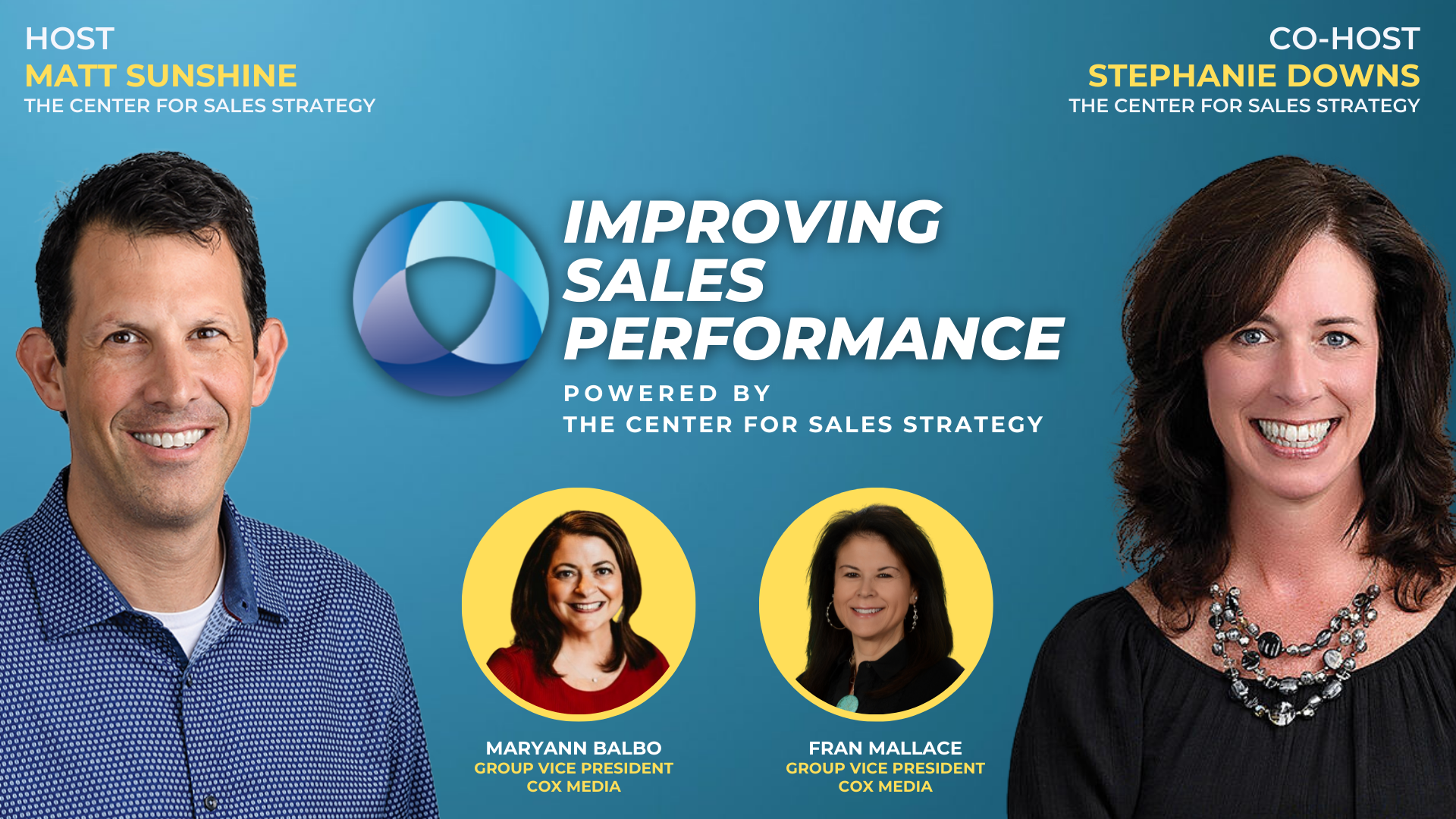 We hear this question more than ever, "What makes a good leader?"
In the first 2022 episode of Improving Sales Performance, Stephanie Downs joins Matt Sunshine and guests Maryann Balbo and Fran Mallace of Cox Media.
Maryann and Fran are both Group Vice Presidents at Cox Media, and throughout the show, they discuss qualities of a good leader, leading in a 'people-first' company, and offer advice for sales leaders on company culture, sales management in 2022, and looking forward.
Tune in now or keep reading for a brief overview.
About Maryann Balbo
As Group Vice President of Cox Media, Maryann Balbo is accountable for the leadership of Cox Media's growth in revenue and profit objectives across multiple markets. This includes Kansas-Arkansas, Louisiana, Florida/Georgia/Alabama, New England, Omaha, and Virginia markets.
She also leads digital sales strategy for the enterprise. Prior to this role, she was the Vice President of Kansas-Arkansas, leading a team including sales, sales services, and marketing professionals. Before joining Cox, she was the General Manager of broadcast station WHDF in Huntsville, Alabama.
With a diverse career path, she has worked in broadcast, cable, digital, and print. Most of her career has been focused on sales and marketing while starting in the business as Master Control Operator. As an early adopter of digital platforms, she has led change among many organizations, including Time Warner, NBC, The St Petersburg Times, and ABC/Disney.
Maryann is best known for her proven track record of building and maintaining a thriving people-focused culture with a foundation of purpose. And, as a result, leading high-performance teams.
About Fran Mallace
A native of Fort Lee, New Jersey, Fran Mallace came to Phoenix to attend Arizona State University. Mallace began her advertising career working on the client side, and then advertising agency side of the media business. Following her successes in positions such as Account Supervisor and Media and Marketing Director, Mallace decided to explore advertising sales and landed an Account Executive position with KUTP TV 45.
Fran joined Cox Media/Cox Communications in 1992 as a National Sales Manager and, since that time, has had the opportunity to be in a number of roles in Arizona, California and Atlanta. She currently is the Group Vice President working with Arizona, California, Las Vegas and Oklahoma. In addition, she has responsibilities for sales operations, the YurView channels and the national, programmatic, political and agency partnership sales channels.
Fran's leadership and service also extends to the community, where she has served on Cox Charities as well as the boards of American Advertising Federation for the Phoenix Chapter serving twice as president, Better Business Bureau of San Diego, the Chrysalis Shelter for Women, the Foundation for Blind Children, The Boys and Girls Clubs of America, East Valley Crisis Center, honorary chair for the Free Arts for Abused Children of Arizona, Pappas Kids Schoolhouse Foundation and Fresh Start Women's Foundation.
Currently Fran is on the board for the AZ Make-A-Wish Foundation including chairing their granting wishes committee, ASU Walter Cronkite School of Journalism and Mass Communication also chairing the Cronkite luncheon event. She is also a member of Women in Cable Telecommunications (WICT) and was recognized as 2017 WICT Volunteer of the Year. She has a love of mentoring and does that at ASU, throughout Cox and in the community.
What Makes a Great Sales Leader?
"Leadership is all about people. It's a privilege, not a right," states Maryann.
From a leadership standpoint, it's crucial to focus on growing and supporting your people and advocating on their behalf.
"Identifying what people's strengths are and celebrating those strengths as well as growing them and celebrating their success are qualities of a true leader," explains Maryann. "Leadership isn't about making tough decisions. It's about challenging your team and answering questions with questions. It's really helping them think broader and enhance their critical thinking; helping them get there through a specific process."

As a leader, you own the tough decisions and the mistakes. Your team owns the celebrations and the wins. "Leaders are here to save the day by giving direction."
To elaborate, Fran quotes, "When I talk to managers, I get the feeling they're important. When I talk to leaders, I get the feeling I'm important."
Fran talks about how being a great listener and genuinely caring about people first are qualities of a great leader. "Great leaders are curious, they ask questions, and they want to understand everything about people and customers."
What Does a People-First Company Mean?
It's time for leaders to adopt the mindset that people come first and nothing else matters.
"People-first means you learn what makes people tick and what ticks them off," Fran explains. "Once you figure that out, you learn why they come to work every day, why they're motivated, and you learn how to create an environment for them to flourish."
Fran also talks about why feedback is an important part of a people-first company. "Embrace learned and make mistakes — that creates growth and trust — this is what people-first means."
Maryanne adds that, "Making mistakes in a safe environment is a positive people-focused culture that encourages people to grow, and if they make mistakes and learn from them, that's cause for celebration!"
When you strive for a people-first culture, you want to understand everyone's individual whys and their purpose, then create an environment that has collective purpose. "You have to know people's individual strengths," Maryann states.
Both Maryann and Fran agree, when people stop talking, you know there's a problem. As a great leader, you have to find out what that is and immediately address it.
Advice for Building a People-First Culture
Maryann's advice to leaders for building a people-first culture is this:
Start by being a good listener and understanding the individual.
Dig into their individual purpose and their why.
Have an open door to hear the opinions and suggestions of others.
Develop a collective why.
Fran's advice is this:
Listen to the voice of the customer

—

figure out what is truly important.
Ask questions

—

find out what people are thinking and ask what inspires them.
Let people be the leader for the day

—

have them step into your shoes and ask them what they would change.
Both women agree that us you create a positive people-first culture, then performance will improve.
How Has Sales Management Changed?
As Maryann points out, sales and sales management changes daily.
"That era of the top-down approach and one voice being the decider doesn't work anymore," she states. "It's not sustainable for the future. The old regime of doing things like they've always been done is outdated."
She also discusses how sales managers shouldn't be talking numbers anymore. Instead, they should talk about growth of their people and their commitment to customers and the community. "The philosophy of corporate America is changing for the better!"
Fran adds that the toolbox for sales managers has changed as well. "Leaders are more educated on their audience and you have to be more of a marketer than a seller."
She also states that, "Customers are more sophisticated and knowledgeable, so we're like tour guides who have to decipher all of this information."
To listen to the full episode, click here.
Don't miss another episode of the Improving Sales Performance series where Managing Partner Matt Sunshine speaks with thought leaders, experts, and industry gurus, who share their insight, tips, and knowledge on various topics that help companies improve sales performance.
Subscribe to our YouTube channel, and have your notifications on so you're notified of our next episode!