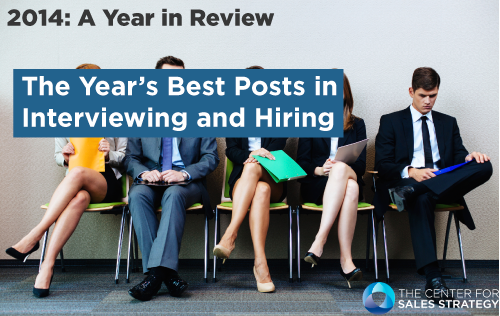 As 2014 comes to a close, we like to take a minute and reflect on the posts that resonated the most this year. Here's a year in review of our most popular posts regarding the interview process. How to find prospects, how to interview them, and how to structure their compensation so they'll stick around.
When you're interviewing salespeople, it's easy to fall back on things you already know, but once you know where you're going wrong, it's pretty easy to avoid them as well. Read on to find out how to avoid the 5 biggest interview pitfalls.
When you're interviewing sales candidates, don't ask questions with a right or wrong answer. Find out how to listen for talent.
You can spot sales talent without asking questions. Observing people in their natural habitat is one great way to accomplish this.
We recently talked about how to spot sales talent without asking questions. Here are six more sales talents to spot.
It's really important to create the right sales job description so you're not wasting anyone's time. But how do you do it?
Why do both sales managers and their salespeople rate finding qualified prospects as the second-highest ranking item on their list of sales managers challenges?
How do you set up a compensation plan that is effective for both the salespeople and your company? Follow these three simple steps.
Those were our best posts about the interview process. What stood out to you?
In case you missed the previous edition:
Part One: Online Communication
Coming up tomorrow: the year's best talent posts.