Creating an environment where employees can develop is important to both their personal and career growth.
When you create a work environment that fosters a culture of learning for you and your employees, you will reap many positive returns.
Personal and Professional Development Books
According to an article in Harvard Business Review, employees who see opportunities to learn and grow are 2.9x more likely to be engaged.
In the employee engagement surveys we use to help companies develop stronger cultures of engagement, one area that always seems to stand out as an opportunity for companies to focus on is employee development.
Employees crave development. Knowing this and how important learning is for us, training and development have been a focus of our company for many years, as our team is thirsty for self-evolvement. We offer many opportunities for our team to grow, and one is through reading.
Reading is so important for growth and exercising our brains. It leads to creativity, increased vocabulary, the ability to see new perspectives, allows increased concentration, and boosts confidence in conversations.
Finding time to read is important. To quote Confucius,
No matter how busy you may think you are, you must find time for reading, or surrender yourself to self-chosen ignorance.
To help you get started, below is a list of books we read as a team that may grab your interest.
1. Find Your Way
By: Carly Fiorina
This book provides disciplines and tools to help leaders execute and elevate their leadership. Leadership is influence, and the fastest way to gain influence is by solving problems. Find Your Way gives any reader the skills to become a leader who solves problems and grows in influence.
2. Soundtracks
By: Jon Acuff
In Soundtracks, New York Times bestselling author Jon Acuff offers a proven plan to change overthinking from a super problem into a superpower.
3. The Talent War
By: Mike Sarraille and George Randle
A must-read for any business leader looking to build elite teams and win on talent. For your organization to win, you need to attract and retain the best talent. But without the right strategy or mindset, you won't be able to do so--and you won't be able to compete. After all, your people, not your product or service, are your strongest competitive advantage.

4. The First 90 Days
By: Michael D. Watkins
Michael D. Watkins offers proven strategies for conquering the challenges of transitions—no matter where you are in your career. Watkins also addresses today's increasingly demanding professional landscape, where managers face not only more frequent transitions but also steeper expectations once they step into their new jobs.
5. Selling Sunshine
By: Tony Hartl
A top entrepreneur helps readers breathe life into a stagnant business by overhauling their approach to branding and customer service. Packed with 75 simple, actionable strategies straight from the trenches of the service industry, Selling Sunshine explores the peaks and valleys of running your own business through the eyes of a proven expert.
6. American Icon
By: Bryce G. Hoffman
Bryce Hoffman reveals the untold story of the covert meetings with UAW leaders that led to a game-changing contract, Bill Ford's battle to hold the Ford family together when many were ready to cash in their stock and write off the company, and the secret alliance with Toyota and Honda that helped prop up the American automotive supply base.
7. Fish!
By: Stephen Lundin
Filled with inspiration and timeless wisdom that will resonate with anyone in any field or career level, FISH! is one of the most popular business parables of all time. People in organizations around the world use its practical lessons to improve customer service, build trust and teamwork, bolster leadership, and increase employee satisfaction.
8. Can I Have Your Attention?
By: Curt Steinhorst
Curt Steinhorst shows business leaders how to cut through the noise and get their employees back to work. Curt has spent years helping Fortune 500 companies overcome distractions and achieve focus.
9. Zapp! The Lightning of Empowerment
By: William C. Byham
Most managers know that revitalization in their companies must occur from the ground up. But how to get that message to employees without applying the kind of pressure that makes them even less productive? The answer is empowerment.
10. The Leadership Challenge
By: Jame Kouzes and Barry Posner
This new sixth edition has been revised to address current challenges, and includes more international examples and a laser focus on business issues; you'll learn how extraordinary leaders accomplish extraordinary things, and how to develop your leadership skills and style to deliver quality results every time.
11. Strategies and Tips for Time Management
By: Jack Barrett
Regardless of the mentality people have that being busy means being productive, busyness is often simply an indication of poor time management. Still, working overtime shouldn't be considered the way to get more activities done during your free time. With proper time management, you will realize that you can do more with the limited time you have.
12. Outliers: The Story of Success
By: Malcolm Gladwell
In this stunning new book, Malcolm Gladwell takes us on an intellectual journey through the world of "outliers"--the best and the brightest, the most famous and the most successful. He asks the question: what makes high-achievers different?
13. Worth Doing Wrong
By: Arnie Malham
Business is hard. Arnie Malham, founder and president of CJ Advertising, understands this thoroughly. But the challenges that make business hard are more than just obstacles--they provide the foundation to building and strengthening a culture that attracts the best people to do the best work.
14. Six Lessons For Success
By: Bob Willoughby
What do Aristotle and Bruce Lee know about practice? What do William Shakespeare and Mark Zuckerberg understand about taking risks? What can Martin Luther King, Dwight Eisenhower and Michael Jordan teach us about our attitudes? The answers to these questions and many others are explored by Award-Winning Executive, Author and Career Coach Bob Willoughby in Six Lessons for Success.
15. The Motive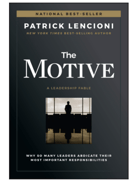 By: Patrick Lencioni
In what may be his edgiest page-turner to date, Lencioni thrusts his readers into a day-long conversation between rival CEOs. Shay Davis is the CEO of Golden Gate Alarm, who, after just a year in his role, is beginning to worry about his job and is desperate to figure out how to turn things around. With nowhere else to turn, Shay receives some hard-to-swallow advice from the most unlikely and unwanted source—Liam Alcott, CEO of a more successful security company and his most hated opponent.
16. How to Win Friends & Influence People
By: Dale Carnegie
You can go after the job you want—and get it! You can take the job you have—and improve it! You can take any situation—and make it work for you! Dale Carnegie's rock-solid, time-tested advice has carried countless people up the ladder of success in their business and personal lives.
17. The 7 Habits of Highly Effective People
By: Stephen Covey
The 7 Habits have become famous and are integrated into everyday thinking by millions and millions of people. Why? Because they work! With Sean Covey's added takeaways on how the habits can be used in our modern age, the wisdom of the 7 Habits will be refreshed for a new generation of leaders.

18. Change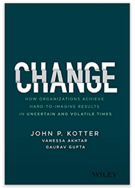 By: John P. Kotter
Incremental improvement is no longer sufficient in helping organizations navigate the complexity, uncertainty and volatility of today's world. In Change: How Organizations Achieve Hard-to-Imagine Results in Uncertain and Volatile Times, authors explore how to create non-linear, dramatic change in your organization. You'll discover the emerging science of change that teaches us about how to build organizations – from businesses to governments – that change and adapt rapidly.
19. Culture Renovation
By: Kevin Oakes
In Culture Renovation, the head of the world's leading HR research firm―the Institute for Corporate Productivity (i4cp)―Kevin Oakes provides tangible, tactical insights drawn from a robust data set and informed by CEOs and HR leaders at many of the world's top companies. You'll find everything you need to rebuild your corporate culture with care and expertise
20. The Goal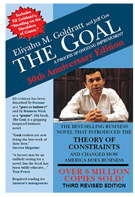 By: Eliyahu Goldratt
The Goal is a business novel that preaches a simple but insightful truth: productivity is the act of bringing a company closer towards its goal. If the company's goal is to make money, then we should focus on increasing throughput, decreasing inventory, and decreasing operational expenses.
21. Covert Cows and Chick-fil-A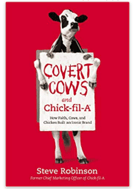 By: Steve Robinson
The inside story of how Chick-fil-A turned prevailing theories of fast-food marketing upside down and built one of the most successful and beloved brands in America.
Whether you're a veteran in your career or just starting out, one of the most helpful things you can do is continue your professional growth.
Developing yourself personally and professionally is a lifelong endeavor. Regardless of the type of stories you choose to read, reading will help you understand others better. Learning the strategies used by some of the world's most successful business leaders is sure to have a positive impact on your career. These books listed are just a few of the many titles out there that will help teach and motivate you through your career.