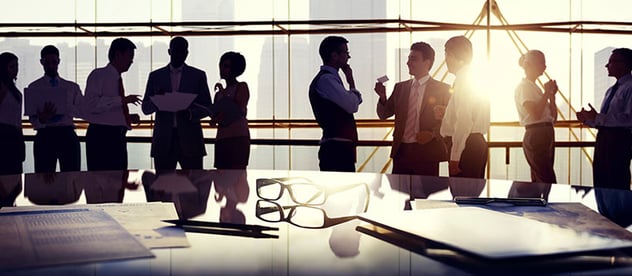 Today we have a guest post from Danny Wong. Danny is a marketing consultant, sales strategist and writer. He does marketing at Tenfold, a seamless click-to-dial solution for high-performance sales teams. Connect with him on Twitter @dannywong1190.
---
Growth is good — it means that goals are being met and revenue is up. But hiring new team members brings challenges. The responsibilities of a sales manager change drastically as your sales team expands. Managing a modest team of five to 10 reps is easy when compared to overseeing a department with 30, 40, or 50 salespeople.
Here are three things you must keep in mind as a sales manager as your team begins to grow from small to large:
1. A communications strategy becomes necessary.
When you have a small sales team, it's easy to keep track of everybody and discuss your expectations with them. You're probably all sitting within shouting distance of each other and have strong business relationships. Communication is critical, as 86% of business executives believe that their business struggles due to poor communications.
As the team grows larger, it is harder to develop intimate relationships with each member of your staff. Therefore, it's important to take the time to personally engage with and coach your sales reps regularly. You can talk about any issues they're having, offer advice, or simply thank them on their progress. These should be two-way conversations, so make sure everybody feels comfortable coming to you with their own problems or suggestions.
You'll also want to make sure that you run regular staff meetings. With a larger sales team, every sales rep won't have the chance to forge a strong bond with their peers. These meetings will, therefore, serve two primary purposes: update the entire team on any news or important information, and give them the chance to get together and build some camaraderie.
2. Training must become procedural.
Training within small teams is extremely controlled. You have plenty of one-on-one time with your staff. And they have endless opportunities to build relationships with their colleagues so they can exchange advice and strategies.
With larger teams though, you lose some of that. It becomes harder to stay hands-on with your trainees. They also won't always have the benefit of forging strong relationships with their coworkers. Thus, it's important to build a detailed, structured training program and ensure that all new sales reps have everything they need before they hit the floor. Don't let them shadow just any salesperson; designate two or three reps with strong sales knowledge and excellent communication skills to coach newcomers.
Additionally, you will need to ensure that training continues beyond onboarding. Regularly monitor your team's performance and give them constant guidance on how to improve.
3. Collaborative tools are a necessity
Time and time again, studies prove that there's a direct link between collaboration and success in a sales environment. And the larger your team is, the more you have to invest in tools that allow them to seamlessly work together. If you have an outside sales team in addition to your inside reps, this is even more critical.
One of the most important pieces of the puzzle is a robust CRM platform. You'll need this to let reps share information about important clients, manage their sales pipeline, and minimize overlapping efforts. It also makes it easier for reps to handle multiple accounts -- and tasks -- at once, increasing their overall productivity.
Another set of tools should be implemented to enable internal communications. HipChat or Slack are great for allowing reps to message each other privately or ask questions to a larger group.
Additionally, you'll want to invest in systems that let them share and store documents. Google Docs and Citrix ShareFile are great examples of these. To optimize your end-of-funnel efforts and expedite the process of sending proposals, contracts, and quotes, invest in an e-signing program like PandaDoc.
Overseeing a large sales team is much easier said than done. You'll be working with many different personality types, learning styles, and performance levels. The strategies and habits you've used to manage smaller teams simply won't cut it. By focusing on communications, training, and collaboration, however, you'll ensure both you and your reps exceed company expectations.