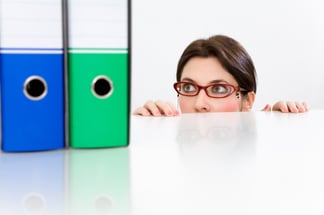 I just got off the phone with Debbie. I had to pass along the story she related to me.
She told me that she recently asked a client why she hadn't received the RFP for a new project they were doing. The answer stunned her. It was a short turnaround situation, the client told her, and when the client looked for Debbie's phone number in a recent email, it wasn't there. She was in a hurry, and rather than look it up, the client just moved on to someone else.

Debbie told me she won't be missing the sale again! She now has her email signature, including her phone number, automatically added to every email. Yes, this story might also indicate that this particular client didn't think it was essential to include Debbie in the RFP process, and thus it might reflect poorly on Debbie or her company, which is why I haven't included her last name!
But don't think what happened to Debbie couldn't happen to you.
See also: 3 Things That Build or Batter Your Reputation Online: A Lesson in Professional Branding
How long will you wait for a web page to load or for a video to start playing before you give up and move on? Research shows that people begin to abandon videos after just two seconds. And how long they'll wait for a webpage to load is now measured in milliseconds.
So how long will a prospect or client search for your phone number before moving on or calling your competitor?
Just like we are impatient online, clients and prospects have little time or patience to search for you. We live so much on email and social media, that most of us forget that clients and prospects may actually still want to call us—on the phone.
How easy is it to find your phone number? There was a time when people grabbed your business card to find your number. Today, they'll glance at your email signature or your business social media profile.
Does your email signature include these five pieces of information?
Your Name
Your Title or Personal Brand Statement
Your Company
Your Phone Number
Your Email Address
How different is the list of information that should be in your Business Social Media Profile?
Your Name
Your Title or Personal Brand Statement
Your Company
Your Phone Number
Your Email Address
Yes, it's the same list of essential information.
Congratulations on getting so many of the big things right in your professional selling. Don't let a little thing undermine your success. Make those changes right now and set yourself up for success in the weeks and months to come.
Do you want to learn how to connect to decision makers? Download a sample of our online course, Brand & Connect.