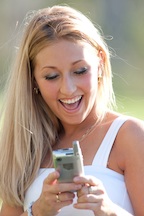 When analyzing history, we can sometimes predict what the future will bring. I'm not talking about a Sci Fi adventure series or even the new fall line up of reality shows on History Channel. I'm talking about realizing and accepting that mobile, if not part of your digital sales vernacular today, should be tomorrow.
Not only does overall mobile usage continue to grow, smartphone technology gives consumers more choices on how and why they use their device(s). Location based mobile campaigns doubled since 2010 and in Q1 2011, ad agencies said the creative they most frequently create for mobile are SMS at 25% and Display at 37%. (Source: STRATA, "1st Quarter 2011 Survey Results April 25, 2011"). While it hasn't happened yet, mobile based internet use could surpass that of a PC making mobile the delivery of choice for interactive content.
Even if you don't have a mobile offering for your advertisers, it's important to know how to speak to and understand what your clients may be experiencing with mobile. If you do have a mobile offering, don't neglect to include it as a tactic in your overall integrated marketing solution.
Here are 6 starter terms to familiarize yourself with mobile:
Mobile Marketing: A form of marketing that generally uses SMS, MMS or WAP Push to deliver its promotion to mobile phones or other mobile devices. Like Outdoor, Print, TV, Radio or Interactive Marketing, Mobile Marketing is simply another tactic marketers can use to reach a target audience.

SMS: Often referred to as a text message, usually 160 characters or less on a digital cell phone or longer on a smartphone.

MMS: A message sent that includes multiple media such as images, video or audio. Not all consumer have this capability due to their device not accepting MMS or a carrier plan that charges additional fees for MMS.

WAP Site: WAP is a technology that allows the consumer to link to the internet from a cell phone. If you click on a link within a text message and are directed to a mobile site, you can do this because of WAP (Wireless Application Protocol). This type of site is specifically designed for display on a mobile device allowing for more mobile advertising opportunities and in many cases, a better user experience.

Pull Messaging: A message by which the consumer initiates a request from his/her mobile phone. For example, this type of message happens when a consumer responds to, "Text in to win…" or "Text in to join…".

Push Messaging: The sending of information, either via SMS or MMS, directly to the consumer's phone but only under the terms the consumer has given permission to. For example, after texting in to join a mobile club for special offers, a special offer is sent to the user via their mobile phone.
Also, when selling digital advertising that includes mobile, remember to respect user preferences. All campaigns should be opt-in if Push or should include a really strong, valuable offer if Pull. QR codes are another mobile tool you can use as part of an Integrated Campaign. For more ideas on how to incorporate mobile into your integrated marketing solution, check out our creative checklist.
For more on Mobile Marketing and terms you can use, check out the Mobile Marketing Association's website.
PS: If you want to see great QR codes in action, or you happen to love gardening, download a QR reader app and head to Home Depot. In the garden center, many of the perennials have QR codes on the tag and will link you to great mobile content!
Kim Willoughby is a Senior Consultant at The Center for Sales Strategy