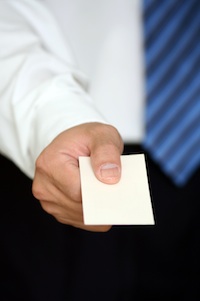 Have you ever been asked for a referral? Most people offer up a referral when asked—the reality is we're not asked very often. This presents an opportunity for the savvy business developer.
Here are 5 things you can to build a referral machine:
1. Set a goal. For example: Ask for 10 referrals every week.
2. Start each week by sending an email to 5 people asking for a referral.
3. Demonstrate proof of performance to people outside of your customer base and ask for a referral—perhaps someone like your neighbor might know someone you can help.
4. Create a referral group within your customer base by referring one of your customers to another—perhaps they will do the same for you.
5. Fearlessly pursue referrals—even in the face of rejection.
Would you ever think about asking for a referral from a prospect that just shot you down when you tried to set an appointment with them?
Employing a sales strategy that delivers results will greatly improve the likelihood of people passing along a referral to you. Keep keep this in mind as you build your referral machine.
Kurt Sima is a VP / Senior Consultant at The Center for Sales Strategy