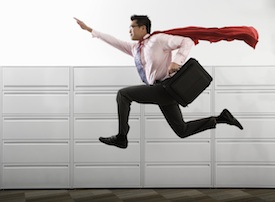 The people on our Digital Team at The Center for Sales Strategy are often asked if social media is worth the time and effort it takes. After all, it's work to create content, engage followers and develop a community. The answer is... YES! Social media, if part of an integrated marketing solution, is ABSOLUTELY worth it! Here's the social media super tool your sales organization can use to make your product (or that of your clients and customers) come to life:
It's all about storytelling! One reason social media works is because of the power of storytelling. Social media allows a brand to share the behind-the-scenes stories about the people and activities that give a brand personality. People connect with people—not brands. One way to make the customer care about what the organization has to say is through story. It's the social media super tool that is most often overlooked.
I think this article from Inc. is a wonderful example of how any sales organization can combine social media and storytelling to connect with customers and prospects. The article talks about how Sam von Trapp, a descendent of the family made famous with the Sound of Music, has used social media to breathe new life into Vermont's Trapp Family Lodge.
In Sam von Trapp's case, he brought the hills to life as he shared stories about encounters with wildlife, bike excursions, and von Trapp family history.
When you think about it, storytelling plays to social media's strengths—people love hearing and sharing stories. If you hear a good story, you are likely to share it with a friend.
By design, social media amplifies a message. In the past, we broadcast the message to the public via TV, cable, radio or newspaper. The advertiser lost their ability to influence the consumer once the message reached the consumer. Sure, your mom might have cut out an article for your or clipped a coupon for a great deal—but that was the end of the message's portability. Social media extends the life of the message—IF people think the message is worth sharing.
Brands are no longer their own cheerleaders. If done well, social media allows them to enlist an entire cheerleading squad to shout on their behalf. One cheerleader shares the story with a fan, who shares it with their friends, who shares it with their friends...
By telling a good story on Facebook, Twitter, YouTube or the company blog, and giving the consumer a way to share that message via linking, you support the campaign—ensuring the message lives on long after the paper drops or the message reaches the consumer's ears.
How do you find your own stories? Check out this article, which gives 41 Fresh Blog Post Ideas, or this one, which lists7 Ways to Find Your Stories: Once Upon a Time, What If?, David vs Goliath, Adam and Eve, Hannibal Lecters, Heroes or Frodos, A Picture is worth 1000 words.
Tell me a story! I want to hear how you are using social media and the power of story to advance your sales process.
Kimberly Peek is a digital sales coach and online trainer at The Center for Sales Strategy