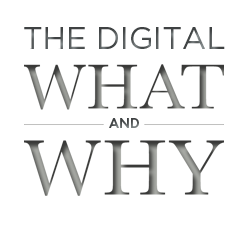 Notice how I didn't title this post, "Learning Digital is a Piece of Cake?" Understanding digital and all the facets of this complex media can be intimidating. There are new terms and new definitions to live by, there's new technology to create and deliver messages and best of all, there seems to be something new to learn everyday! You can even find the word, "Facebook," in the children's Scholastic Dictionary! Digital is everywhere.
You can find cakes in a number of places, too. When baking a cake, you have many ingredients… eggs, flour, oil, sugar and more. How much you use of each ingredient is crucial to the success of your cake. Also, what dish you bake it in, and the time and temperature you bake it at, can also make or break your cake. Take it from me, I've messed up my fair share of cakes!
Just like baking a cake, learning digital can take time, but if you commit to learning the 'what,' of digital and 'why' marketers need to know about it, you will be seen as an invaluable resource to those still learning about digital themselves. The difference is, unlike baking where there is only one way to reach success, there are lots of ways you can help use digital to achieve marketing goals.
The Center for Sales Strategy has developed an online course, a series of videos based on our popular Digital What & Why primer used in the Digital Sales Accelerator workshop. Take this quick online course to build on what you already know—or take the time to learn new things! Either way, the Digital What & Why is a tool you can use.
Watch videos that explain Ad Scheduling, Ad Delivery and Ad Impressions... and view the course outline here.
Kim Willoughby is a Senior Consultant at The Center for Sales Strategy.