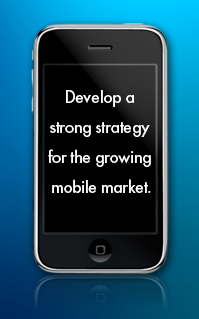 When you look at emerging trends in the digital space right now, location-based marketing is rarely missing from the conversation. The discussion surrounding the effectiveness of local advertising, the power of social media and the growth of mobile add color to the conversation.
Marketers all over the country are trying to determine how they can capitalize locally and with the growing mobile market. The following findings, courtesy of Sandler Research on Smartphones: New User Paradigms and Behaviors, further demonstrate the reason to better understand and develop a strong strategy that addresses the growing mobile market.
90% of smartphone users search local information
76% of smartphone users use location check-in services
60% of end-users connect to social networks via mobile
50% smartphone users purchase via mobile
45% of smartphone users check email constantly throughout the day
32% of smartphone users check Facebook at least once per day
With all of the focus on social, mobile and location, here are a couple of big buzzwords to be on the lookout for in 2012.
SoLoMo is a term coined to describe the collision of Social, Local and Mobile marketing. You might see this deployed as a personalized response with an offer sent to a consumer using Foursquare or Facebook to check in at their store. SoLoMo is also common in mobile apps like Groupon, Yelp and Foursquare. Retailers like Starbucks, Krispy Kreme and Nordstroms are also playing in the SoLoMo space. For example, if you crave hot Krispy Kreme donuts, their Hot Light app will alert you when a Hot Light is activated in your area, help you find a store near you and give you the ability to invite your friends via a social network.
Geo-fencing is another term you will be hearing more about in 2012. This is a really cool concept that reminds me of a scene in Minority Report. In the scene, Tom Cruise enters The Gap and with a quick scan of the eye, he has a hologram greet him by name and also references his last purchase. Although we are not at that point just yet, geo-fencing is similar. Geo-fencing gives a business the opportunity to place a virtual fence around their physical location, in other words if you opt-in to receive alerts or texts from a retailer, when you are within that "virtual fenced area" you would receive a message from the retailer that would contain a special offer.
These types of concepts are allowing marketers to reach potential consumers at the speed of their lives. The key to success is a smart strategy that promotes engagement with consumers through content and promotion.

Alina Diaz is a Senior Consultant at The Center for Sales Strategy.