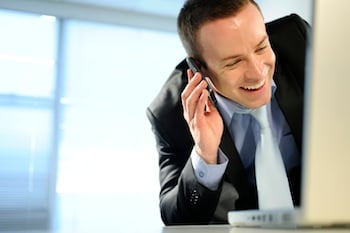 Cold calling can be an inefficient use of a sales person's time and talent. As a manager, I want sales people spending the majority of their time on activities that are directly tied to revenue. It's important for our sales people to be in front of clients and prospects helping to address business challenges—which is why we at Cox Media Group Louisville recently launched an inbound marketing effort, led by our blog LouisvilleEdge.com. We believe it's the perfect next step to elevate ourselves from our competition. It gives us the ability to provide real-time information on topics that are important to our clients. Here are six reasons that we thought an inbound marketing campaign was the right investment for us.
Lead generation. Let's face it we all need more qualified leads, don't we? By having potential clients find us, rather than us chasing them down, the likelihood that they are really serious about working with us will go up dramatically. Warm leads are always better than cold ones.
Thought leadership is a must. It's important for us to be seen as experts in what we do, and to have people coming to us for advice on their marketing problems. This is how we separate ourselves from our competitors.
Ongoing marketing to future clients is critical for our long-term success. We need to constantly give our clients more value and remind them of ways in which we can help them. The more ways we find to stay in front of them, the more likely they will turn to us when they need help.
We want to be seen by our clients as "more than radio." We are marketing experts. Inbound marketing allows us to showcase the other things we do: we facilitate brainstorming sessions, lead marketing strategy models and offer digital solutions, for example. These are some of the strengths of our organization that inbound marketing allows us to showcase.
A great way to be a resource when clients need us most… not just when we happen to call them. By providing timely information about topics that are critical to their success, we can be a resource and not just another vendor.
Allows our sales people to spend more time in front of clients. The more time we spend with our current clients helping them grow, leads to better results for both us and our clients. Finding leads more efficiently frees up our sales staff from their most daunting task… prospecting.
To get started with inbound marketing, download 7 Steps to Generating Quality Leads.
Todd Schumacher is VP/Market Manager with Cox Media Group in Louisville, KY. Check out his team's work at www.louisvilleedge.com