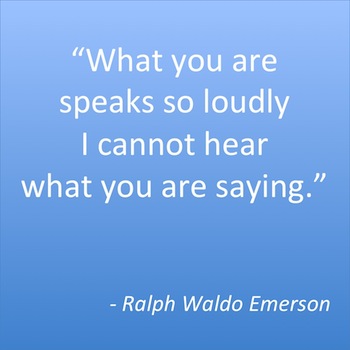 One of the industry newsletters I subscribe to comes from FICO (Fair Isaac Corporation), whose work is centered on lending and banking analytics. A recent issue warned against operational negation. That is, behavioral contradictions which can send the customer conflicting signals.
The example used in the newsletter was when a bank is trying to upsell a customer by increasing their credit limit, while another department within the institution is simultaneously sending that same customer a letter chiding them for being late with a payment. Presumably, one department doesn't know (or doesn't care) what the other is doing, so the two actions cancel each other out, and negate the credibility of the institution.
I caught myself thinking, "Gosh, I see this behavior all the time! And not because two departments might be out of sync; I've seen this happen when a sellers' priorities are out of sync." Think about it: Early in the month or year, when you're starting with a blank slate and all the world is an opportunity, it is easy to operate with a customer-focused frame of mind. Early in the sales relationship, it is comfortable to start by explaining how you like to do business, that you prefer to understand the customer and their challenges first and completely… and only then collaborate on building a custom solution for your clients.
But a few sales calls down the road—or toward the end of a month or quarter when you have goals to hit—it's easy for behaviors to contradict your earlier covenants.
Here are some ideas to help avoid operation negation:
If your sales organization doesn't have a capabilities brochure or document that explains how you like to do business, write one. Then, read it once a week. A values document is a nice thing to share with prospects, but it's just as important for sellers to review it from time to time.
If you have satisfied customers, proceed to #3. If you don't, then get some.
Make a habit of gaining and sharing testimonials from your satisfied clients. When someone leaves you a voice-mail compliment about their satisfaction with you or your company, follow up. Thank them for their kind remarks, and ask if they would be willing to share their comments in an email or a LinkedIn endorsement… or in any other format you can share with future prospects.
Review your list of customers often… and ask which clients were gained through a solutions-driven collaboration, and which ones were acquired because you offered a cheap price or applied some pressure to get that first order before the end of the month (quarter, year). Chances are, your most lucrative and renewable business came in when you were focused on your customers' problems, not yours.
The way you claim to work with customers should never be contradicted by the way you behave in reality. You'll improve sales performance when you live up to the promise of customer focus that you have made to your clients… and to yourself.
Mike Anderson is the VP Consumer Insights and Communication at The Center for Sales Strategy.