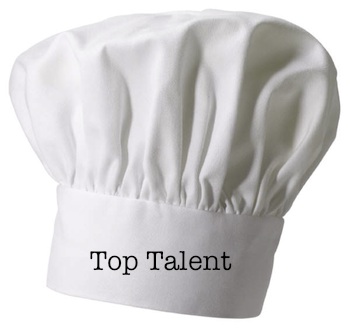 Serving up the ideal sales person for your team to increase sales performance is much like creating the ultimate masterpiece in the kitchen. Like a culinary chef, you must know the significance of each ingredient you are using, meticulously measure each one, and mix them together perfectly to prepare dishes that meet everyone's needs. If one significant ingredient is missing, it can destroy the entire meal and leave everyone wanting more. Hiring sales people and coaching them is much like preparing your favorite dish.
As you think about the ingredients you will need for hiring the ideal sales person, here's a tried-and-true recipe to follow that we borrowed from our partners at Talent Plus:
Talent + Fit x Investment = Growth
Talent
Talent is the key ingredient in a successful salesperson, and there is no substitute or quick-fix if you find that it is lacking. Not everyone is born to sell. Even with training and ongoing coaching, those who are not natural sales people will never be great. Think of innate talent as the "special sauce" that always makes the difference between "wowing" the crowd and disappointing them immensely. If you are missing this ingredient, don't even bother trying to compete in the Top Chef of talent competition. Your dish just won't measure up.
Fit
Fit relates to how the sales person's innate talents match up to the job that you are looking for them to fill. Every chef knows that you cannot make a prize winning molten chocolate lava cake with ground beef – ewww! The quality ingredients have to be the right match for the dish you will serve in order to bring home that blue ribbon.
Investment
Investment is the time and energy that it takes you, as the head chef, to turn a list of ingredients into the final product. You would never throw all the ingredients for a cherry pie into a dish and then serve it immediately to your guests. Instead, you would take the time to warm up the oven, allow the pie to cook until it is brown and bubbly, plate it with a side of a French vanilla ice cream, and present it to your guests in a way that will make their mouths water. Even your most talented sellers need you to spend that kind of time with them as well. Without it, they are likely to grow cold and fail to rise.
When all of these ingredients are measured, mixed and baked together properly, the results can be truly delicious. With even one ingredient missing, the entire meal can be a flop... and you will find yourself going back to the recipe to find out what went wrong.
At The Center for Sales Strategy, we have a team of talent analysts who assess talents, help managers match talents to positions, and develop coaching plans.
We want to support you as you compete to become the Top Chef of Talent. Download our Job Analysis and Spec Sheet and our white paper on Building Powerful Relationships.
Elisa Hillman is a Talent Analyst at The Center for Sales Strategy.