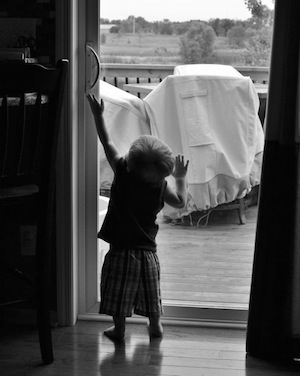 Our grandson wanted desperately to go outside and play at the splash table. Of course, at one year old, he's not allowed to do that without supervision.
He didn't realize I was there, but for several minutes, I watched this determined little guy stretch beyond his reach, figure out the system, and try open the door so he could get outside and play. He tried to push. He tried to pull. And I think he even knew that sliding it might work. But all of his effort was to no avail; the door was too heavy (and latched).
He plopped himself on the floor and whined in frustration for a moment, but quickly realized that didn't help, either.
Stupid door.
But then, as if a light bulb lit up in his head… he walked away from the problem, in search of the solution: Me. He grabbed me by the hand and walked me toward the patio and knew that, surely, I'd help him out.
I did.
Are you having trouble opening some doors? You can try pushing with persistence and pulling with incentives (a free lunch, or tickets to the big game). But sometimes, it just makes sense to have someone help you open the door. Scour your list of contacts, Facebook friends or LinkedIn connections to see if any of your friends happen to know the person you're trying to meet with. Or talk to your sales manager to see if she or he has any ideas or connections that might be able to help you get in.
Sure, it would be fun to figure it out all on your own. But take it from a little kid: When failure or frustration are the alternatives, it's okay to ask for a little help.
Download 30 LinkedIn Tips for ideas on how to use your LinkedIn network to open doors.
Mike Anderson is VP / Consumer Insights and Communication at The Center for Sales Strategy. Mike will be speaking on "Getting Started with Inbound Marketing" at the Inbound Marketing Forum on November 8, 2012 in Atlanta.