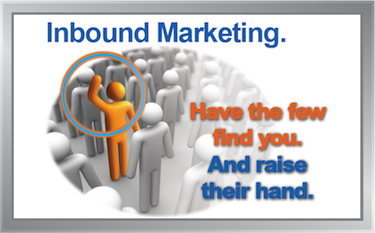 The Center for Sales Strategy's Inbound Marketing Forum was this past week in Atlanta, and I had the honor of being able to attend and to speak at the event.
For those of you who were not able to attend, I wanted to share a few of the highlights from the sessions, and give my perspective on what I saw as important takeaways. While there were several more presentations and topics covered than the ones I have highlighted here, these are what I saw as the highlights.
Matt Sunshine – The Center for Sales Strategy
Introduction
In the opening comments, Matt Sunshine discussed the problem that inbound marketing is looking to solve. That problem is that salespeople are struggling and becoming frustrated by an outdated prospecting process that includes cold calling, and trying to reach prospects that are busy—and worse yet—don't want to be reached. Inbound marketing provides the answer. Inbound marketing identifies the prospects who have already researched your product or service... and who want to be contacted.
This was a compelling introduction, and it did a wonderful job of stating the importance of inbound marketing to companies struggling to generate leads and increase revenue. This also served as an introduction to the first speaker of the day, Corey Beale, who elaborated on Matt's point that the current prospecting model is broken, and inbound marketing is a solution.
Corey Beale – HubSpot
Crush the Competition & Book More Appointments with Inbound Marketing
This was a somewhat controversial presentation; as, Corey Beale, VP of Channel Sales at HubSpot, basically told the audience that the traditional way of prospecting and developing leads for media companies is broken, and that companies utilizing inbound marketing and social media will soon cut into the customer base and profitability of companies that don't adapt to this new world of inbound marketing.
He clearly pointed out that outbound marketing isn't dead, and there is still a time and place for salespeople to make cold calls. But, inbound marketing can be a more efficient and effective way of getting leads to pre-qualify themselves—and save sales reps from call fatigue, burn out and frustration.
Jim Hopes – The Center for Sales Strategy
Inbound Marketing Really Works!
After hearing from several presenters about how inbound marketing works, and why you should be using it, Jim Hopes, CEO of The Center for Sales Strategy, provided a few examples of inbound marketing success stories from Louisville Edge, Palm Beach Post, HubSpot and The Center for Sales Strategy.
While each of these case studies and examples were distinct, the common thread that they shared is that each publishes consistently, three to five times per week, develops great premium content, and uses well-executed lead nurturing programs.

Brian Hasenbauer – The Center for Sales Strategy
30 Days to Inbound Marketing Success
As an Inbound Marketing Consultant who works with inbound marketing clients everyday, I have the opportunity to see companies at each stage of development of their inbound marketing programs. We created "30 Days to Inbound Marketing Success" based on what we have learned from our clients' experiences, and made a special effort to highlight areas where we see clients getting bogged down, spending too much time or not making rapid progress.

Thirty days seems like a short period of time to initiate the development and implementation of a company's blog, but we have streamlined this process, and even include a few tips and tricks to make the process go more smoothly.
Overall feedback that we received from the event was very positive, and we have been asked to conduct this event again in other regions of the country.
We are hard at work planning additional events like this around the country, and the next one is scheduled for May 16 in Dallas, Texas.

Brian Hasenbauer is an Inbound Marketing Consultant at The Center for Sales Strategy.