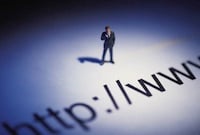 I was at my usual Starbucks getting my usual morning beverage, and while I waited, checked my email as usual. A gentleman in his 70s was behind me asking if I was reading a book on an eReader; apparently he saw me reading one of my lengthy emails and did not know what an eReader looks like.
I replied, "No, I'm just reading emails on my phone, and sometimes they may look like books, but they're not always this long." He smiled and mentioned he was asking because he is trying to find out how to publish his eBook and thought maybe I was using an eReader and could offer advice based on how I read and download books.
Due to traveling, I still prefer a paperback but have dabbled with a few publications on my iPad. I shared that I don't know much about the topic. He said he asked a computer guy, and is waiting to hear back from him… but I recommended he find answers himself versus waiting. "How about you Google it?" I asked.
I could see the perplexity on his face, so I took my phone back out, opened my browser and showed him. I typed, "How do I publish an eBook for download?" and shared a few links to some sites that are recognized. I said he can do the same thing from his computer. After scrolling a bit, he said he was confident that would help him get started. He offered me a croissant for my efforts, and I politely declined, but felt satisfied that I helped yet another person empower themselves with digital knowledge via online research.
Through blogs and social media, so much of what we want to know about can simply be "Googled." Many of the salespeople I coach feel intimated about digital when they are asked questions they don't have the answers to. Depending on the complexity of the question, and their innate talent to love research, sometimes I say the same thing I said to the man I encountered at Starbucks this morning, "Have you Googled it?"
Once they do, they realize a depth of information that is enough to get them to the next level of the conversation; and they did it on their own. No need to wait for an expert; no need to wait for a manager. They feel empowered and therefore, confident. And they feel they retained more knowledge doing it on their own.
When in doubt, try a little research on your own. You will learn and embrace new ideas faster, as well look like you know more about digital than you do (or did before you Googled it!).
To get a jumpstart on learning digital terms, check out our Digital What & Why online course.
Kim Willoughby is a Senior Consultant at The Center for Sales Strategy.