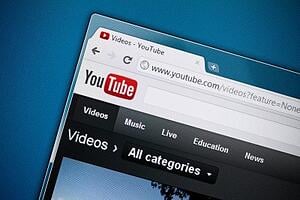 Online video shows no signs of slowing down anytime soon, in fact YouTube gets more than one billion unique visitors each month who watch over four billion hours of video each month. With those kinds of numbers,
...brands are continually striving to create engaging content that will be shared with their target consumers.
Here are the top five YouTube ads for the month of April published by Google earlier this month – check them out to see what they are doing right!
1. Baby & Me – The New Evian Film – this is the follow-up to the 2009 Evian Roller Babies video that held a Guinness Book of World Records for the most-viewed online ad. Baby & Me was published on YouTube on April 19, 2013 and has over 46 million views.
2. Dove Real Beauty Sketches – the web-only commercial highlights the differences of how real women see themselves vs. how they are seen. The commercial showcases a series of real women describing themselves to an FBI Forensic Artist, then the same women are described to the artist by another woman and the differences are eye opening. The video, which has been seen over 52 million times, was published on YouTube on April 14,2013.
3. Ship My Pants by Kmart – in this spot Kmart brings their audience in through humor. They laugh at themselves and highlight their free home delivery service for any item that shoppers can't find in the store. The ad was published on YouTube on April 10, 2013 and has received close to 17 million views.
4. Pepsi Beyoncé "Mirrors" - the new commercial, which is running on-air and online, has multiple reflections of Beyoncé in past outfits dancing in mirrors while the current Beyoncé, dances with them to a new song… and enjoys a Pepsi. The video was published April 4, 2013 and has over 10 million views.
5. Old Spice | Watermelon – funny and weird is the best way to describe this one… you need to check it out. The commercial for their Fiji Bar Soap was published on YouTube on April 7, 2013 and has over 5 million views.
Do you have a favorite online commercial that didn't make the top 5? Tell us what it is!
Alina Diaz is a Senior Consultant at The Center for Sales Strategy