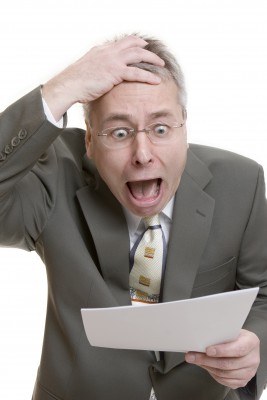 For the last couple of months I've been in the market to upgrade my home audio system. I've talked to a number of companies and one of them got me very excited to do business with them. They came to my home, assessed my current system, asked me a lot of great questions, uncovered some needs I hadn't considered, and had some really interesting solutions. Not only was I getting everything I was hoping for, but the estimated verbal quote they gave me during this meeting was in-line with my budget! A couple of weeks later when I went back to the store to see a demo of the product and have them present their recommendations, guess what?
SURPRISE!!!!!
It was double the amount for less capability than we had discussed!! I went into the store that day ready to make a purchase and I left there wanting to do everything I could to not do business with them for this purchase, or any other future purchases.
This experience got me thinking about the sales strategy with your clients. Are they ever surprised at what you present to them? Or, do you collaborate with them during the entire sales process so when they get your proposal there are no surprises? Do the client's expectations and yours align?
There are 7 questions you should consider asking yourself before every presentation. If you can answer "YES" to all of them then you are ready to go!
1. Does your proposal clearly demonstrate that you understand what the client's needs are and that you've built your recommendations around those needs?
2. Does your proposal rest on a custom-tailored idea/plan? If it is built upon a pre-packaged offering, have you customized where necessary?

3. Does your proposal give all the information the buyer needs in order to make a high-quality decision? All the information he/she needs in order to say yes?

4. Does your proposal give enough comfort to the buyer for him/her to feel that they will be taken care of even better after saying yes than they were before they said yes?

5. Does your proposal address and resolve every concern that seemed important to the prospect in your previous discussions, or are some left out or glossed over?

6. Would your proposal be entirely understandable and actionable if it were read by someone who was not in attendance at the meeting where you made your oral presentation?

7. Most importantly: does your proposal call upon the prospect to make a decision about the plan you are recommending, or does it call upon him to make a decision about your product?
Surprise parties can be fun. Surprise proposals never are… for the client or the salesperson. (I still don't have a new home audio system!)
Start asking and answering "YES" to these 7 questions today and you and your clients will be more successful.
Learn more about uncovering your client's and prospect's true needs!