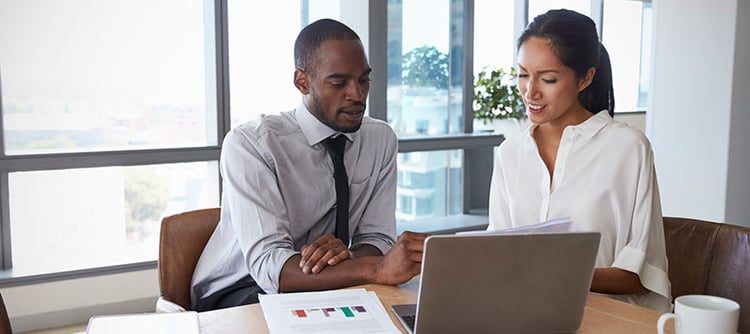 This article on how to hire a great sales hunter stirred up great conversations about how to coach and develop those hunters once they are onboard. Great stuff, so we want to share it!
The best way to grow an organization is to grow each of the people within that organization, including your sales hunters. Great managers do this by keeping the natural behaviors of these people top of mind and committing to a handful of strategies to maximize their strengths.
6 Behaviors Found in the Best Business Developers + How to Develop These Talents
When we studied the very best new business developers out there, we found six specific behaviors that great sales hunters had in common.
We also discovered the best ways to maximize these natural strengths and help them to turn raw potential, or talent, into performance.
Here are our pro tips on how to develop each of the six behaviors commonly found in the best new business developers out there:
1. The best hunters are self-motivated and driven to be the best in everything they do.
They consistently push themselves to be top performers and achieve quantifiable results, keeping scores against their own performance and always pushing for more.
Pro Tip to Turn Talent into Performance: Provide clear expectations for weekly activity including prospecting, new calls, needs analysis meetings, proposals presented, and proposals closed.
When they know what success looks like, they are inspired to achieve and surpass those expectations. Be sure that you know what their own personal goals for achievement are as well — they may measure their success in a very different way than you. And recognize their successes every single week!
2. Strong enterprisers are extremely competitive, seeing every opportunity in their day as another chance to win.
Their endless appetite for growth and desire to win drives them to prospect more often and push for larger sales.
Pro Tip to Turn Talent into Performance: Make sure their compensation plan aligns perfectly with the work you want them to do so they have powerful opportunities to compete for incentives – and win.
Also, identify how they prefer to be recognized when they are successful so you can maximize their sense of reward. And understand that losing will hurt. Offer genuine empathy and then quickly set their sights on an opportunity to win.
3. Great new business developers have both confidence and swagger.
They are focused on making things happen, often taking the initiative to move things forward without instruction — and they can be very persuasive along the way. They are typically discerning with clients as well, not assuming that everyone will be a good fit for their product or solution.
Pro Tip to Turn Talent into Performance: Appreciate their persistence and persuasiveness, both with clients and in the office. Challenge them to identify new categories of business they believe might be a good fit and then encourage them to build a strong Valid Business Reason they can use with that category — leading with an industry insight.
4. Reading situations well and removing obstacles, these sales hunters naturally pick up on buying signals and effortlessly move the client to the close.
The best of the bunch won't sell something they don't believe will work, though. The great ones have high standards and they focus on creating a win-win situation that allows them to win the sale while the client gets big results.
Pro Tip to Turn Talent into Performance: Arm them with lots of information, resources, and customer success stories so they feel informed and confident that they have the edge in the market.
Encourage them to use their creative insights, coming up with new products and ideas to sell and, since they are not afraid to ask for business, inspire them to always take a second look at their proposals to make sure they are maximizing each sale.
5. Upbeat and full of energy, these hunters easily get their prospects and clients excited about their ideas and give them confidence in the solutions they offer.
They are also optimistic, understanding that even after a tough day of hunting filled with rejection, tomorrow will be a better day.
Pro Tip to Turn Talent into Performance: Give them specific goals for networking and attending community events and let them know you appreciate their ability to build rapport with others so easily.
Also, encourage them to save and share client success stories they can use to get new prospects excited. And don't forget to praise them often and provide frequent feedback on their performance!
6. These great sales hunters enjoy doing some detective work, uncovering the client's most valuable business needs, and matching those with a strong solution that they know will work.
They are good at solving problems and don't give up when the going gets tough.
Pro Tip to Turn Talent into Performance: Help them to develop their natural ability to solve problems by seeking their input and asking for suggestions often. Also, share great articles and blogs with them that they might use down the road.
Challenge them to innovate and come up with even better solutions to the problems they encounter. And include them in and encourage them to lead brainstorming sessions as often as possible.
It's not enough to make a great hire. That is a critical first step — but it's not enough on its own. After hiring a strong sales hunter, you need to consider what makes that person tick and how you can regularly provide them with the coaching and encouragement to turn their talent into performance.
Editor's Note: This blog was originally written in 2019 and has since been updated.