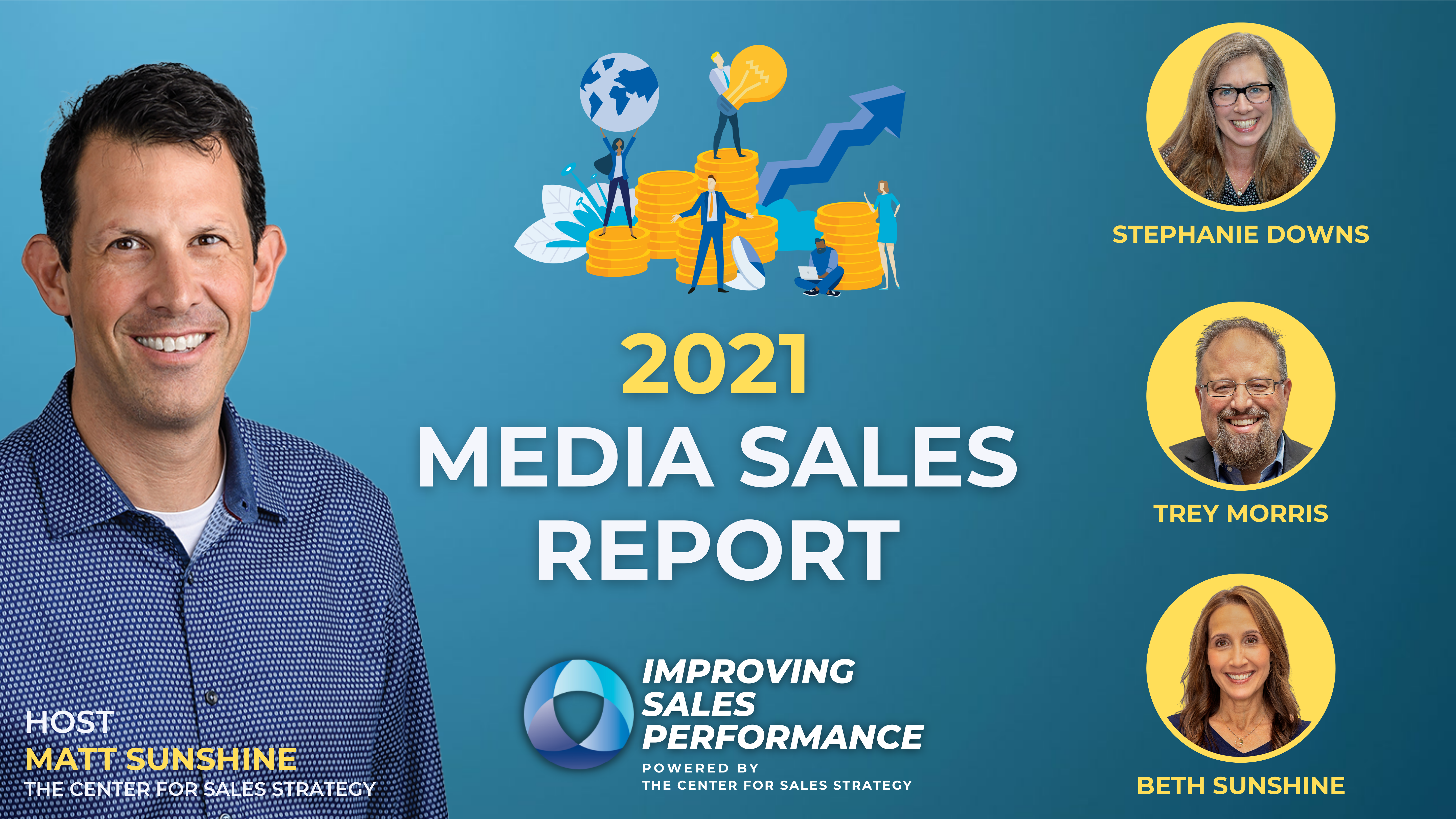 Brand new, hot off the press, the 2021 Media Sales Report is now available for all to download!
This series of Improving Sales Performance focuses on the analysis of the 2021 Media Sales Report conducted by The Center for Sales Strategy; unpacking the data from the surveys to help media sales teams use these insights to drive sales performance in the year ahead.
In the first episode of the series, Matt is joined by industry experts, Stephanie Downs, Trey Morris, and Beth Sunshine, to dig into the key takeaways from the 2021 Media Sales Report and discuss the future and outlook of the media sales industry based on the data in the report.
Tune in now or keep reading for a brief overview.
Methodology Behind the 2021 Media Sales Report
In October 2021, we surveyed over 250 sales leaders and salespeople, with the majority having 11+ years of B2B sales experience.
We ask for their thoughts on expectations, strategies, and tactics they felt had the greatest impact on media sales in 2021 to help drive sales performance in the year ahead.
It's also important to note that results came from a well-balanced market in radio, television, digital, newspaper, and cable.
5 Key Findings
Sales managers are experiencing recruitment woes.

Learning and development is key to retaining sales superstars.

It's still hard to get appointments.

Sales enablement collateral is lacking.

Company culture is a key driver of organizational success.
Sales Department Structure and Learning & Development
Stephanie Downs, Partner and Vice President Senior Consultant at The Center for Sales Strategy, discusses the section on Sales Department Structure (Size and Compensation) and Learning and Development.
Early in the report, readers learn that 53% of sales managers admit recruitment is the hardest part of their jobs today. When asked what the hardest things for sales managers are today, Stephanie says hands-down recruitment and new business development.
"In almost every conversation with sales leaders, we talk about recruitment," she states. "Which leads into the second biggest hardship – new business development."
8% sales managers said new business development is the hardest thing today. This leads them to think that they should add people to their team – and the survey proves that 57% of managers saying they need more people on their team.
When asked the same question (hardest part of the job today), salespeople also feel that new business development is a struggle, but through more specific parts of the sales process. Getting the first appointment, finding it hard to connect with decision makers, struggling to make connections in general, these are just a few points Stephanie addresses.
"It's also interesting to note that when it comes to sales structure and operation, salespeople are saying more than ever (60%) that they want a combination of salary plus commission," states Stephanie. "As a sales leader, you need to have a compensation conversation part of your annual planning for next year because this finding relates back to recruitment."
Does your compensation plan align with what salespeople want today? If so, you have a leg up from a recruitment standpoint.
Switching to learning and development for salespeople, 91% said they want more learning and development opportunities. "What's interesting is that the majority of sellers taking this survey were veterans in the industry with 11 or more years," Stephani explains. "So, these aren't just newbies or younger, inexperienced salespeople – veterans are saying it as well."
In the Media Sales Report, 67% managers said they do weekly sales training. Stephanie advises them to keep doing that but go above and beyond that and think about what is important to each individual – what do they want, what do they want to grow. "This is a big part of retention. When people feel like they're being invested in and given opportunities, they are more likely to stay."
Setting Appointments, Sales Process, and Sales Enablement
Sales managers are aware of the challenges their teams face when it comes to setting appointments. 82% admit meeting are harder to secure today than they were five years ago.
Trey Morris, VP, Senior Consultant elaborates by saying, "Managers tend to forget what it was like when selling. The survey shows that managers feel salespeople should go on four or more business appointments a week. What we did not ask in the survey is the type of appointment – new business appointment, needs analysis, or something else."
Following up on getting new business meetings, we asked salespeople how many attempts does it take to get a meeting? The results found that 95% of salespeople say it takes between two and nine attempts to schedule an appointment with a prospect.
"We learned from the survey that a lot of salespeople listen to us when we teach them the Don't Give Up strategy," Trey explains. "If you create a plan of engagements for your prospects that involves 7-9 attempts in a 10-day period, you'll have increased your chances for success drastically. Most salespeople quit after three or four attempts."
In terms of technology salespeople are using to contact prospects and get appointments, the survey found that 66% of salespeople use email the majority of the time and 60% still pick up the phone to secure appointments.
"What's really growing is social media," states Trey. "LinkedIn is the number one social media channel, but other social media channels like Twitter and Facebook Messenger are climbing as well."
As Trey points out in the interview, it's interesting to see that the one piece of technology salespeople are not using (91%) is personalized video messages. "8% use it all the time and 0% majority of the time. This is the most effective way to get appointments!"
Industry Outlook and Company Culture
The last section covered in this livecast is company culture and engagement.
In the survey, we asked salespeople if they would recommend their company as a great place to work, and 27% of them said no. Matt asks VP of Talent Services and Engagement Specialist, Beth Sunshine what overall impact this has on a company?
"It has a big impact on the company because it's tied directly to employee engagement," Beth explains. "When employees are disengaged at work, they do not recommend your company to others, and that damages employee brand."
Beth continues, "If employees are disengaged in their jobs, then they're not bringing their full talent to their job or reaching their full potential. Productivity will not be where it should, clients will not see the results they want, and overall, the company will drag."
The report shows that sales managers are more optimistic about the future in their industry than salespeople - 4 out of 5 sales managers said they were optimistic but only 2 out of 4 sellers said that same. Why is that?
"I don't think sales managers are more optimistic than people," Beth explains. "I think the gap in numbers is related to lack of communication and transparent information to where the company is headed."
She continues, "Researchers have learned that companies with the highest levels of engagement have four things in common, and at our company and Up Your Culture, we call these The Engagement Elevators."
"When you look at transparency, you look at Earned Trust. When that elevator is working properly, and going up, employees are more optimistic. These numbers show that sales managers and salespeople are not playing with the same set of information."
As Beth points out, the bright side of the pandemic is that businesses are increasing their focus on culture.
If you're a company leader who wanted to improve company culture and employee engagement in 2022, Up Your Culture has many resources for you to get started:
Download the full 2021 Media Sales Report at css.buzz/mediasalesreport.
Don't miss another episode of the Improving Sales Performance series where Managing Partner Matt Sunshine speaks with thought leaders, experts, and industry gurus, who share their insight, tips, and knowledge on various topics that help companies improve sales performance.
Subscribe to our YouTube channel, and have your notifications on so you're notified of our next episode!