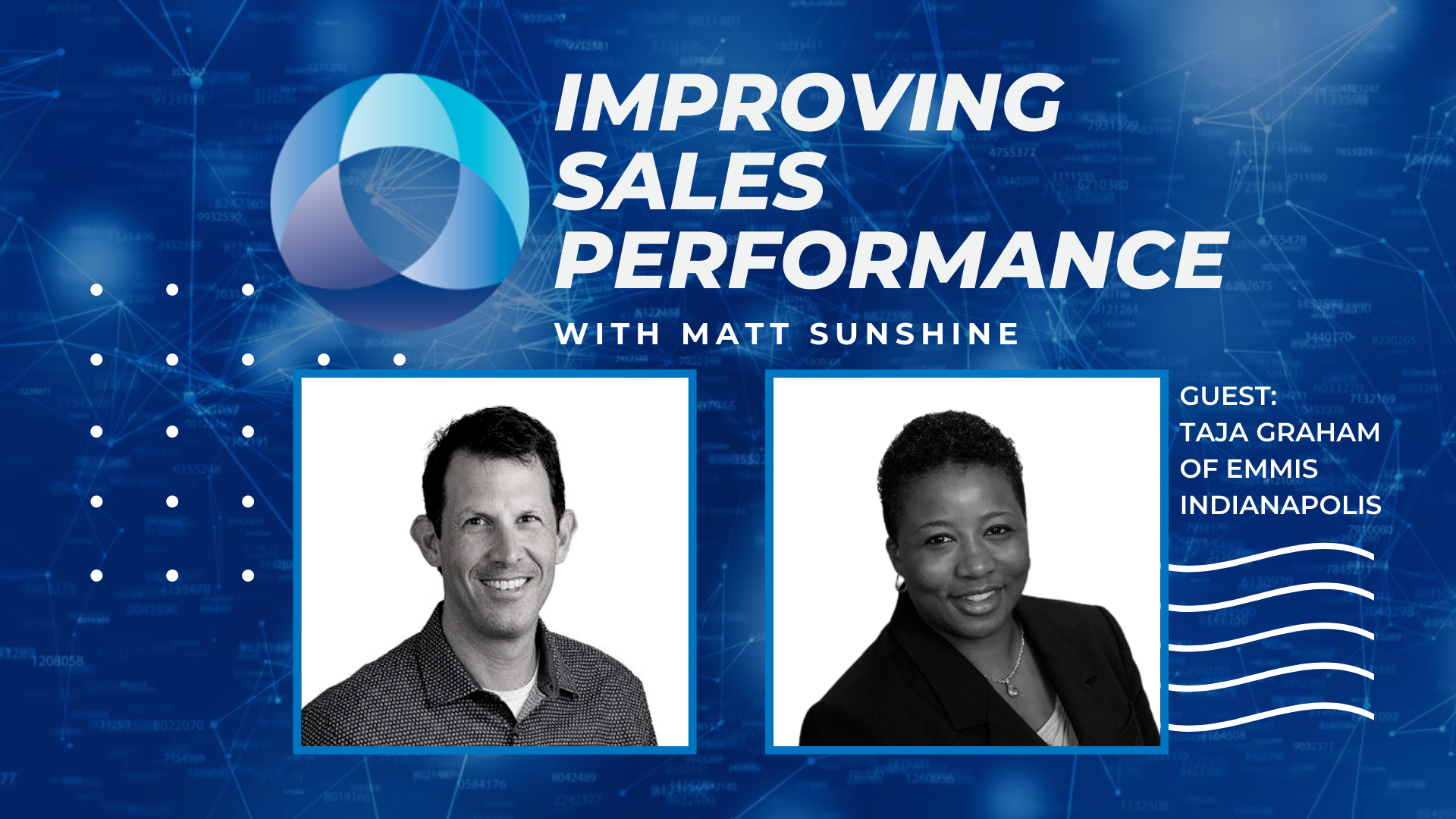 Is it possible to drive sales performance and keep an amazing company culture during these challenging times? Yes! And Taja Graham, Vice President of Sales for Emmis Communications Indianapolis, provides the proof in her interview with Matt Sunshine.
Episode 5 of the Improving Sales Performance series deep dives into things Graham is doing in her market to drive performance, as well as what she's doing to keep her team engaged. Plus, she touches on how they've modified planning for next year to drive performance.
A True Team Player
Taja Graham is Vice President of Sales for Emmis Communications Indianapolis. She started her radio career in 1991, joined Emmis Communications in 1996, and has worked in various roles leading up to her current position.
She currently leads a team in selling omi-channel marketing strategies to national and local accounts, both B2C and B2B. She has been recognized by the Radio Advertising Bureau (RAB), Broadcast Music, Inc (BMI), and the Most Influential Women in Radio (MIW) as an emerging leader in the radio industry, having completed the Rising Through the Ranks Management Course for Women.
She is the 2011 MIW Mildred Carter Mentoring Program Finalist and was also recognized as the 2011 Indianapolis Junior Achievement Best & Brightest Winner for Media, Entertainment and Sports. To top her list of accomplishments, she is also a 2018 Center for Sales Strategy Superhero Recipient.
Buying and Selling Has Changed
Covid-19 has obviously changed the world of B2B sales. Harvard Business Review states, "Lowering quotas, slashing forecasts, and cutting marketing budgets are a must for many companies that have been disproportionately affected by the virus."
When asked what differences she was noticing with how people are buying and selling these days, Graham gave personal experiences. She explained how her organization must open up to digital platforms in order to have that personal experience and connection with clients, and her team had to be committed to staying in frequent contact.
"Have empathy of understanding — our business is down, so that means theirs is as well," she explains. "Our commitment is to be there for client's real-time solutions, and we've stayed true to that. We sell a lot of sponsorships, so we had to pivot from in-person to a digital platform and identify, recognize, and allow for engagement with sponsors."
Employees' Needs Have Changed

Buying and selling needs have certainly changed, but those aren't the only things. Employees' needs as people have changed, which means management must transform their leadership styles.
Before the pandemic, Graham explains how the organization was tweaking its sales operation – leading first with talent and putting people where they were best-suited. This aligns with leadership being responsive and supporting the team through elements such as gamification. This real-time solution allowed management to coach up and see scenarios play-out on HubSpot.
New Systems, Tools, Technology, and Resources to Drive Performance
As working from home and the pandemic continues, so does the need for technology, tools, and training investments. During the interview, Graham is asked to share a few examples of things she and her team are doing to drive sales performance — such as new systems, tools, technology, resources, and more that her team has personally added. These are her top responses:
Tune in as she gives details about each program and how they've helped her team thrive not only during this pandemic but for long-term success.
Keep Your Sales Team Engaged

As you listen to the interview, you'll consistently hear the ways Graham is keeping her team engaged, such as:
Community service

Virtual parties

Individual Lunch and Learns events
A curious listener also asked during the interview, "How do you keep teams accountable while still being understanding of their situations and challenges during a pandemic?"
Graham replies with an astounding answer that revolves around the fact that the organization runs a level of trust from the top-down. Tune in to hear the details!
Driving Performance in 2021
Planning for the next year has always been important. "How have you modified planning to drive performance?" host Matt Sunshine asks.
"We're always in the mode of fact-finding," Graham replies. This means that the sales team is asking key accounts and clients questions that will determine what the next six to 12 months looks like for them — and what a key account growth strategy plan strategy for them looks like.
She also advised listeners to dial into what the industry is doing and how it's performing because that's more important than ever before as we seek recovery from the pandemic.
Don't miss another episode of the Improving Sales Performance series where Managing Partner Matt Sunshine speaks with thought leaders, experts, and industry gurus, who share their insight, tips, and knowledge on various topics that help companies improve sales performance.
Subscribe to our YouTube channel, and have your notifications on so you're notified of our next episode!