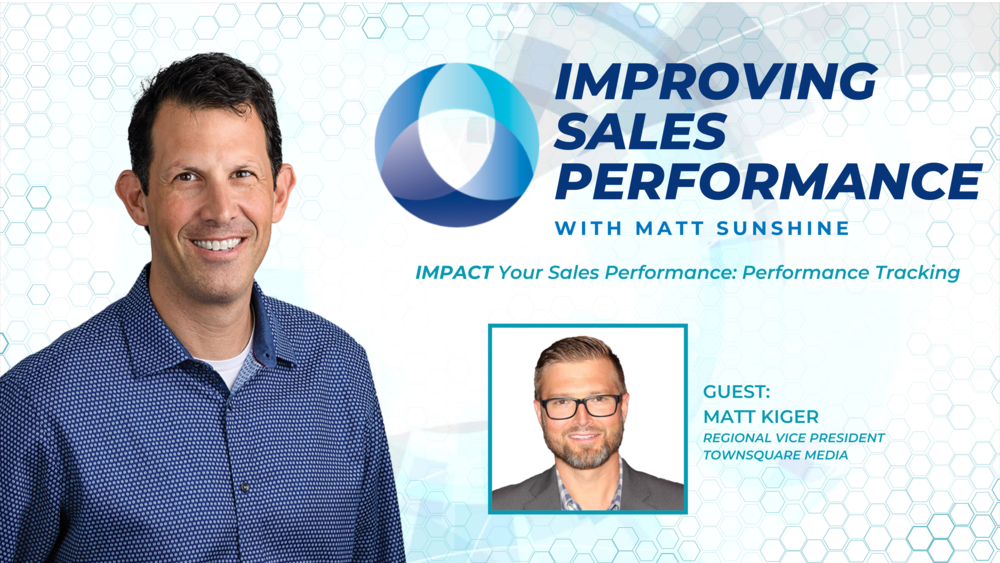 How many performance metrics are you currently tracking? How many should you track?
We can all agree that measurement improves performance, and it's essential to success. But you can't keep changing the rules of the game. Performance improvement comes only when we focus on the same metrics over time. We need to follow the right measurements and stay focused.
In this episode, Matt Kiger, Regional Vice President at Townsquare Media, discusses how sales leaders can make an impact on their sales performance through performance tracking.
Tune in now or keep reading for a brief overview!
A Passionate Sales Coach
Matt Kiger is passionate about sales success and motivating and coaching managers and salespeople to reach goals.

His sales and management career began at the CBS Corporation more than 15 years ago, where he grew from a Digital Account Executive to the Director of Digital Sales, giving him the opportunity to lead CBS Radio into the digital space, and to lead the New York sales efforts.

From CBS, he advanced into the role of Digital Director at Citadel Broadcasting/Cumulus Media in New York City, growing the digital audience and revenues by more than 50%. He joined Townsquare Media 10 years ago as Director of Digital Sales Strategy and Operations, then to VP, Sales.

Currently, he is Regional Vice President at Townsquare Media, responsible for increasing advertising revenues across digital, broadcast, and the live event platforms. Furthermore, he has developed key training curricula covering cross-platform sales strategy and champion the sales culture across the entire company.
What is Performance Tracking?
Host Matt Sunshine begins the discussion by asking, "how would you describe performance tracking in sales beyond just, did you hit your budget?"
Kiger says that the easy metric is "did you hit your budget," but sales leaders need to peel back the onion a little more and know what success looks like.
"You can't measure it if your cant mange it – and those are words to live by as a salesperson but also a sales manager," explains Kiger. "If you can't measure it, how can you manage it and evangelize around it? So, to me, performance tracking is critical to success, but these are metrics by which we measure performance."
When you first think performance tracking, you think number of calls and number of discovery meetings, but it's more than that — it's the scoreboard by which we measure success.
Best Performance Metrics to Track in Sales
One drawback of technology is that it gives us the ability to track everything, and it's frustrating for everyone involved. If we over measure, it could potentially impede progress.
Sunshine asked Kiger, "How many different things do you think sales leaders should track? What are some of the best metrics to track?"
With full transparency, consistency, and repetition, Kiger suggests measuring the four following performance metrics:
Percent to total budget

Targets and keys

New business

Revenue by product
Sunshine quotes Marcus Lemonis, "Know your numbers and you can tell a good story."
Where are you with targets?

Where are you with keys?

What's your new business revenue look like?

What's your non-return business look like?

Revenue by product?
These are numbers that leaders need to know, and it's a cause for concern if they don't know this information.
"We have to know numbers— where we are to budget —is there enough in the funnel, in the pipeline to yield the results that we need, and if not, what steps are we taking to get there," states Kiger.
Difference Between Performance Metrics and Leading Indicators
Leading indicators are what leads to performance. Kiger explains leading indicators as how many quality sales calls have you made, how many discovery meetings are you going on in a week, how many businesses have you pitched, how many proposals have been sent — those are indicators that lead to the performance tracking metrics that was described earlier.
Sunshine also asks, "How do you keep track of leading indicators?"
Kiger explains that Townsquare Media has a CRM built within the company that can be tailored based on where they've seen success. However, for those who do not have access to a CRM – there is hope!
"You can use something as simple as a spreadsheet," Kiger explains. "You don't have to have a perfect system or a CRM, you can use a Google Doc or a daily recap. There re many ways to track, the key is to just get started and set the benchmarks and baseline"
For a real-life example of setting benchmarks, tune into the broadcast around 22:15.
Tracking One Specific Performance Metric
A viewer asks Sunshine and Kiger if there is one specific performance metric they should track.
Kiger responds, "If you're going to track on thing, make it Discovery meetings. In order to land CNAs one has to identify good targets and connect with target and land meetings. It's a pivotal stage in the Sales Accelerator process."
However, both Sunshine and Kiger advice sales leader to NOT track just one metric – track 3 to 4 metrics and be brutally boring consistent and transparent. And if someone struggling pull them aside and give them coaching because that's what sales leaders do — coach and develop.
Don't miss another episode of the Improving Sales Performance series where Managing Partner Matt Sunshine speaks with thought leaders, experts, and industry gurus, who share their insight, tips, and knowledge on various topics that help companies improve sales performance.
Subscribe to our YouTube channel, and have your notifications on so you're notified of our next episode!