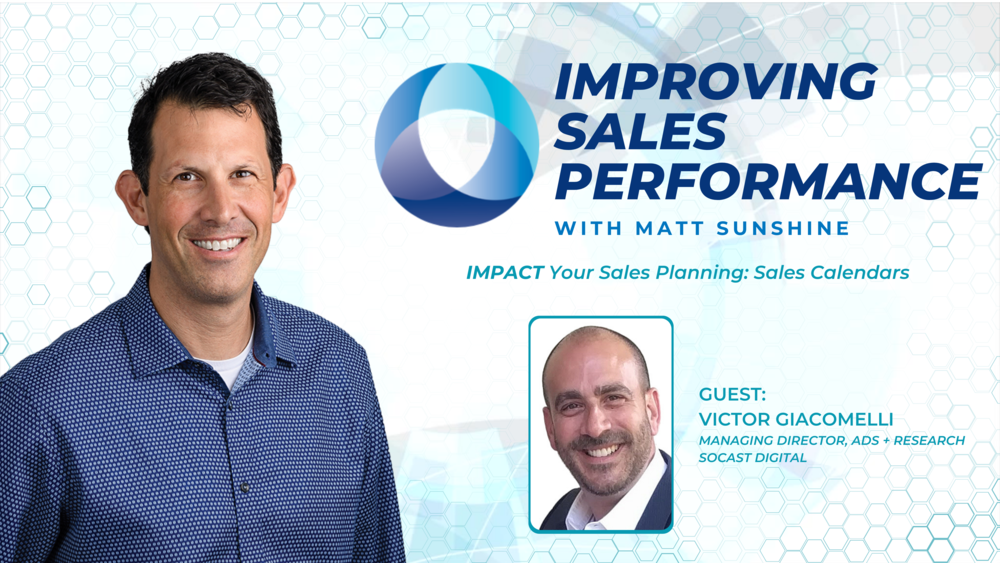 The Improving Sales Performance Series focuses on helping sales leaders make an impact on their sales performance through insight on four key areas: people, process, planning, and performance.
Each week, host Matt Sunshine speaks with guests on essential resources and tools that sales leaders should use to improve sales performance. In this episode, Victor Giacomelli, Managing Director, Ads + Research at SoCast Digital, discusses how sales leaders can make an impact on their sales planning with sales calendars.
Tune in now or keep reading for a brief overview.

28-Year Veteran in Broadcasting Sales and Management
Victor Giacomelli has held many notable roles in sales and sales leadership — AE, LSM, GSM, DOS, Market Manager, VP Sales and Sr VP Revenue.
Most of his career was spent with CORUS Radio as GSM 102.1 The Edge, DOS of their largest cluster in Toronto and VP Sales, at the time they had 52-stations across Canada.
An innovator, he championed what is believed to be Canada's first ever "online remote broadcast" in 1995. He hired Corus' first Digital Account Manager in 2003. In 2016 he was recruited to NYC to become DOS of Emmis Communications, HOT97 and WBLS.
He has worked in sponsorship at events such as the CASBY Awards, Edgefest, WBLS' Circle of Sisters and HOT97 Summer Jam.
In January, he returned to Canada as Managing Director, Ads + Research at SoCast Digital. He was SoCast first client while acting VP Sales Corus Radio, and oversaw the launch of all station websites and apps in 2013 for which his Corus Digital team won a Presidents Award.
Giacomelli has also been a partner of The Center for Sales Strategy (CSS) for nearly 20 years!
What is a Sales Calendar?
Also known as a promo calendar.
As a sales manager or program director, have you ever said, "I wish I would have launched this even sooner?" Or, "I wish I had a longer selling window."
Or maybe you're a GM wondering how to get more activation through all of your events and collaboration from programming ,sales, and their content team.
Giacomelli says that these questions and concerns were the advent of the sales promo calendar.
"In it's simplest form, a sales calendar is a blocking chart that allows the head of sales – regardless of their title – to block out and properly plan for the right selling window for all different events that stations have," he states.
"A sales calendar is a way for us to drill down in terms of planning out our big marquee events or tent pole events, and put in a blocking chart so that we can see when the events were going to happen, when the revenue impact will happen, and how much time we needed to ramp up for selling time to make sure we monetize everything."
Sales calendars are a prime way to help plan out your year because it's not just blocking out your major events that you have but there's always going to be different holiday events and rating sweeps that are more relevant in markets that you want to amp up. And in terms of building budgets, you want to know when is this revenue going to impact my revenue line and what are the costs associated with that.
"We get so caught up in the day-to-day of the business that we're focusing on small rocks versus thinking about big rocks of the future," Giacomelli explains. "You need to have someone who is organized lay it out, then have a senior leadership meeting with your programming and content team to figure out when all of these events are laid out. Then you will know exactly when events are happening so you're not overlapping too many sales actions."
The Most Important Elements of a Sales Calendar
During the broadcast, a sample sales calendar is shown and Giacomelli walks through how he would use it as a sales manager. Tune in now to watch!
He sums up the important elements of a sales calendar like this:
First, you have m

ajor opportunities—this is where you outline major events for year.You know when the event actually happens and when the revenue associated with that event is going to fall into your broadcast month.


The second part is the selling window and when you're actually going to sell for those events you outlined.



Finally, you have the planning. This is where you have all of the marketing material in sales decks built out so that when it's time to launch at the sales meetings, all salespeople are prepared.
Giacomelli says to, "Focus on the event, when it's going to happen, the months that the revune is going to fall, the months that you're going to sell, the date that you're going to plan, and launch date."
The benefit or using a sales calendar like this is seeing where the holes are, and knowing when and where to plan other events.
Why Are Sales Calendars NOT Used?
When asked why he thinks most people don't use this tool or concept, Giacomelli says, "For me, this isn't just a sales calendar, this is the formation of your overall business plan for your next fiscal year."
People do not use this tool regularly because it's an easy thing to pass over, or they use the excuse, "We've always done it this way, so let's just continue."
As Giacomelli advises, when you lay your entire year out and actually look at it — you realize you can't do everything. "Do things you know make impact and do it well."
Another interesting question Giacomelli answers about sales calendars is, "Do you think these should be made client facing?" Giacomelli says yes! And here's why.
Don't miss another episode of the Improving Sales Performance series where Managing Partner Matt Sunshine speaks with thought leaders, experts, and industry gurus, who share their insight, tips, and knowledge on various topics that help companies improve sales performance.
Subscribe to our YouTube channel, and have your notifications on so you're notified of our next episode!