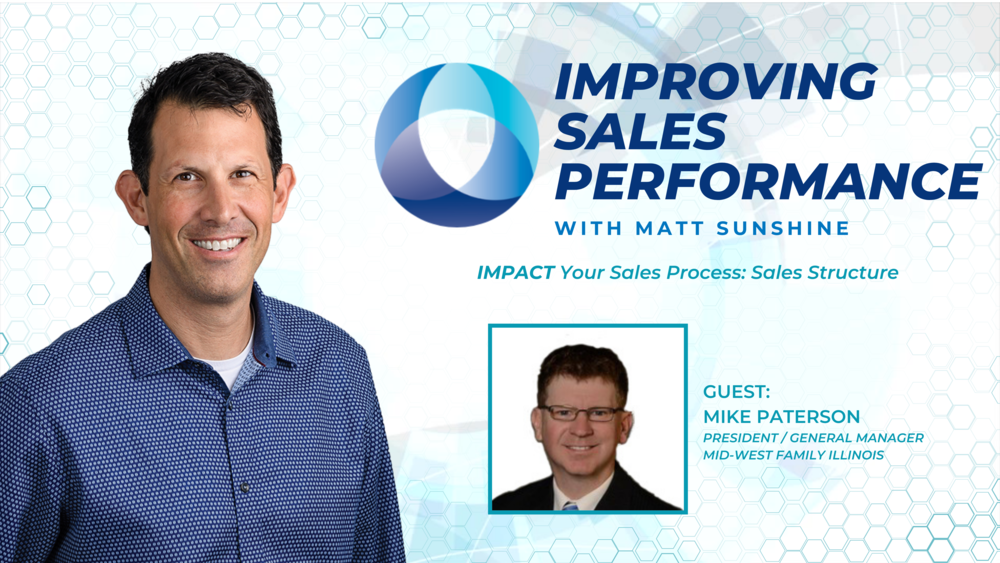 To establish the foundation for sustainable business growth, a solid sales structure must be built layer by layer. People, resources, and processes must align and work together to produce the best results for your organization.
Is your current sales structure designed for the results you want?
In Episode 26, Mike Paterson, President / General Manager at Mid-West Family Illinois, discusses how sales leaders can make an impact on their sales process through sales structure.
Tune in now to hear the Live broadcast or keep reading for a brief overview.
Introducing Mike Paterson
From beginnings in Milwaukee, Paterson has held leadership and management positions at KHFI/Austin, TX, KRBE & KKBQ/Houston, WSB/Atlanta, KEEY/Minneapolis-St. Paul, and KSHE/St. Louis all before the age of 40.
In 2013, he returned to Rockford as the General Manager and Managing Shareholder of Mid-West Family Broadcasting. He's held almost every role at a radio station including filling in as the engineer in Houston when the chief engineer broke both his legs in an auto accident involving the station van.
During his stop in Atlanta, he worked with Cox Media Group and developed the digital, early-stage social media, and interactive strategies for their radio group's sales operations.
Mike holds an MBA in Finance and Marketing from the Bauer School of Business at the University of Houston. And locally, he serves, or has served, on the board of directors of the Rockford Chamber of Commerce, The Literacy Council, United Way, GiGi's Playhouse, and the Blackhawk Area Council of the Boy Scouts of America. He currently serves as Past Chairperson of the Rockford Area Economic Development Council, a public-private partnership.
A Common Sales Structure in Media Sales
The conversation on sales structure between Sunshine and Paterson is one that has been taking place between the two for quite some time now. Because no organization and sales structure is the exact same, and to help listeners better understand the situation at hand, Sunshine asks Paterson to describe the sales structure that he has now and some of the benefits of it.
"Currently, we have a traditional plan where it's a director of sales with a bunch of AEs that do everything, so we expect them to be jacks of all trade," Paterson explains.
Being in the state of Illinois, where COVID restrictions were tight, the organization has waited until now to" start moving some chess pieces around" because they didn't want to be disruptive to customers. "Since coming to Rockford in 2013, the first thing out of my mouth when it came to advertising sales and sales structure was, we must create customers," states Paterson. "How do we make sure we get them for three or more years, and count on that recurring revenue?"
Paterson explains that they have been really successful with that strategy, but now as the opportunities are changing, and they're selling everything of the Big 6 in digital, from GEO fencing, reach extension, SEO, and more – they're looking to hire specialists on the sales floor. "This is where we really have to divide up our hunter, farmers, and as I've dubbed it, gathers," Paterson states.
If you tune in to hear Paterson's explanation of what a "gather" is, you'll also hear a personal story as to why that's a skill that's desperately needed.
Retained Sales Structure vs a Growth Sales Structure
Early in the broadcast, Paterson stated that his organization has a traditional sales structure model with a director of sales and salespeople, where the thinking goes, "if you want to grow revenue, then you add more salespeople."
Sunshine asks, "In that environment, what is it that you really pay salespeople to do, what is it that you want them to do, and what is it that they end up doing?"
"In a traditional environment, salespeople end up maintaining relationships and they're playing defense against somebody else coming in and taking that monthly budget," explains Paterson.
He continues with, "We tend to talk a lot about new business, at the end of the day it's maybe 10% of a veterans AEs time, and they don't really ever get hit with it until they get a big cancellation."
He also gives a personal example of an AE on their team who has two $100,000 a year accounts (which are big accounts in market 160). One of the accounts has a change of Marketing Directors who decided to outsource to another community with no connection to the area. The other sold the business.
Within three months, the salesperson had two $100,000 of attrition and he didn't have the new business funnel because new business was always just a good idea.
"We talked about it, we gave strategies, but you didn't get rewarded for the new business," Paterson explains. "So, as we go forward, how do we start putting those parameters in place to reward for what we want, not what we've always done?"
The way sales departments are currently structured are a retained structure versus a growth structure.
"I think the biggest challenge as you try to go from a sales structure that never really evolved over 30 years is -- how do you change it," states Paterson. "How do you make sure you have the revenue coming in to pay the bills? And it's not just whether you own one market or have 10 markets because if you go through and make wholesale changes in 10, and your revenue falls then you're finding something to cut. That's the internal part."
The external side, as he goes on to explain, is that media salespeople have spent 30-50 years telling people "Radio, radio, radio" – and there was only one tool to sell. "Now, we're trying to convince a client that we've talked to for 10 years that we've added other tools to our belt, and sometimes, they don't want to have the conversation," states Paterson. "So that requires marketing and advertising that we've never been very good at from a sales standpoint within our industry."
Commit To a Process

If scale is defined as growing revenue without having to grow expenses, or add people at the same pace, then for the most part, media sales departments are not built to scale sales. At best, they are built to grow sales. But even then, maybe it's better said that they are built to maintain sales.
"If you have 8 people on staff and want to add 2 more to get more revenue – you're putting the upfront cost of their monthly guarantees or salary before you get revenue because we know it's a 90-150 day turnaround to get good stuff in the pipeline," states Paterson.
You have an upfront investment – which can hurt your cost of sale versus somebody walking in with a book of business within two weeks that gets it done.
The Impact Leadership System separates the sales cycle to a process similar to this:
Lead Generation — A salesperson or an inbound marketing agency that concentrates on identifying new prospects, setting appointments, and generating inbound leads.


Selling Solutions— Account Executives that nurture leads to a direct sale - whether new or renewal business. This can include needs analysis meetings, creating proposals, presenting, and closing the sale.


Serving Clients —

A group that fulfills the contract, agreement, or services the needs of a current client.
With this in mind, Paterson suggests using a form of a hybrid model where you've got a couple of good hunters to prospect and close the big game and a team behind them to make sure everything gets done.
When asked what advice he would give to people that are considering making structure changes, Paterson replies, "Be thoughtful, and don't be slow but don't rush. Have urgency to do it because it's going to change a year from now."
Commit to a process to follow, not necessarily commit to a structure to have. The process will lead you to the right result.
Don't miss another episode of the Improving Sales Performance series where Managing Partner Matt Sunshine speaks with thought leaders, experts, and industry gurus, who share their insight, tips, and knowledge on various topics that help companies improve sales performance.
Subscribe to our YouTube channel, and have your notifications on so you're notified of our next episode!