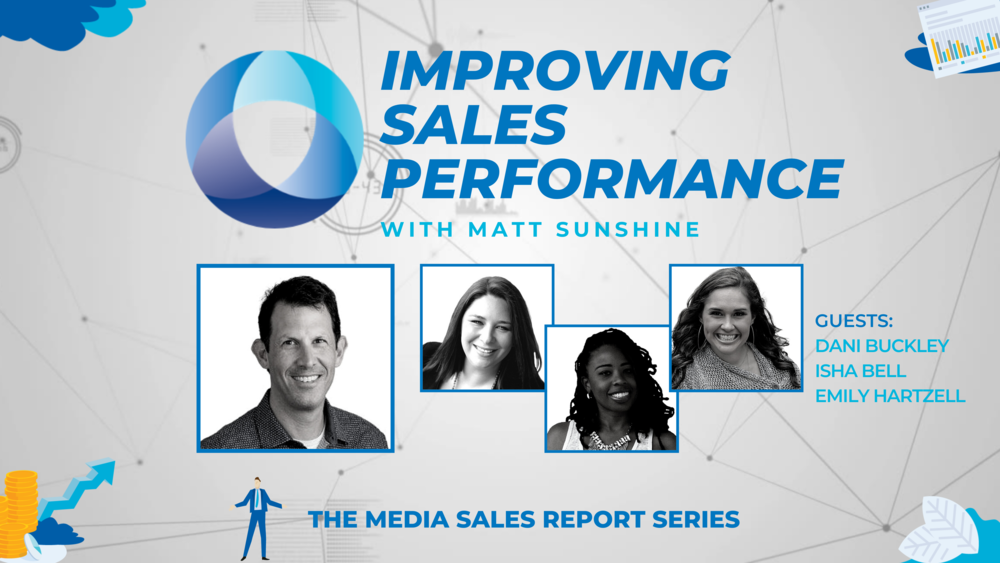 In Season 2 of Improving Sales Performance Series, we've focused on the data and analysis of the 2020 Media Sales Report.
In this episode, Dani Buckley, Isha Bell, and Emily Hartzell of LeadG2 join Matt Sunshine as they discuss the data from the Media Sales Report surrounding the analysis of the sales enablement information.
You can stream it now to hear their insight, advice, and initial thoughts after analyzing the data that was just published. Or keep reading for a brief overview.
Sales Enablement Statistics
Let's review sales enablement statistics from the Media Sales Report:
80% salespeople think they have enough sales pieces (sales enablement) to help in all stages of sales process


However, only 15% are satisfied with what they have


85% of sales managers say they have enough sales collateral to help sellers close deals


However, just over 25% are satisfied with level of effectiveness of their sales collateral


Over 53% of salespeople do not think their company has a marketing plan that attracts leads and promotes thought leadership


2 out of 3 managers say they do not have more than two video case studies
What is Sales Enablement?
Sales enablement is still a very misunderstood term for sales managers and salespeople. When you hear the words "sales enablement", most people think of technology. But even without technology sales enablement can be implemented.
Sales enablement is any resource, tool, or process that helps improve the productivity and performance of a salesperson. As LeadG2 General Manager, Dani Buckley states, "The simplest way to explain sales enablement is everything you do to help sellers sell smarter and faster."
LeadG2 believes there are four buckets of sales enablement — strategy, content, technology, and training. Each bucket, when implement correctly, empowers sales teams to sell smarter and faster.
Aside from technology, when asked what their favorite type of sales enablement is, each guest responded a little differently:
Inbound Marketing and Sales Consultant, Isha Bell states that her favorite type of sales enablement is anything video. "Any type of video that you can turn into content and use it in the sales process down the road."


Senior Inbound Marketing and Sales Consultant, Emily Hartzell says her favorite is case studies — written or video. "A seller always wants and needs more case studies to use."


How Can Sales Enablement Help Sellers Sell Smarter and Faster?
Statistics show that sales reps spend approximately 30 hours a month searching and creating their own content. As Hartzell states, "That's a lot of time wasted! If you want to put sales enablement into action, have resources created and ready to go. Create a blog, eBook, and playbooks and have them ready for salespeople at any given moment, so they're not spending hours searching."
Bell advises managers and salespeople to organize their website and blog strategy. For example, tag your blogs so that you can easily find them when needed.
Buckley suggests building out a plan from beginning to end. "Build out sales plays and the content to support it and then put the technology in place."
What is a Sales Playbook?
Sales plays are the "plays" that guide salespeople through the exact recommended steps they should take in different sales scenarios. Every play should offer specific information on when to use the play, what persona it should target, and the strategy behind it.
Beyond that, it houses everything for your sales strategy and sales process. When LeadG2 builds a sales playbook for clients, they customize it to fit their unique needs, prospects, sales strategy, and target buyer's journey.
Typically, most organizations need somewhere between 10 and 50 sales plays depending on how in-depth they want to go into the unique situations that salespeople face, as well if they have different industries or personas they want to focus on.
For more specific examples of sales plays, tune into the broadcast! Plus, guests answer a commonly asked questions: Is having a proposal template sales enablement?
Sales Enablement Advice for Sales Managers
Host Matt Sunshine asks guests, "If you could advise managers to create just one piece of sales enablement for their team, what would it be?"
Create a place where it's really easy to find everything and go from there. (Emily)


Make a video. Create a short video listing common challenges among prospects and share it to your LinkedIn network. (Isha)


Build a B2B website

—

a place for prospects to know what you sell and to show your thought leadership. (Dani)
Don't miss another episode of the Improving Sales Performance series where Managing Partner Matt Sunshine speaks with thought leaders, experts, and industry gurus, who share their insight, tips, and knowledge on various topics that help companies improve sales performance.
Subscribe to our YouTube channel, and have your notifications on so you're notified of our next episode!