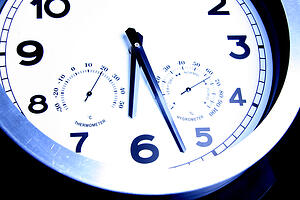 Gone are the days when the best prospects were storefront businesses lined up along Main Street. Back then, a salesperson could simply wander in, looking a little like a shopper, and have reasonable hope of engaging in a productive conversation with the proprietor. Today's prospects look almost entirely different, ranging from less-accessible big-box and chain retailers to exclusively Web-based businesses to insurance providers, educational institutions, investment offerings, group medical practices, personal technology devices, and more—none of which can be approached casually.

And, just as you can no longer simply drop in, so too have the email and voicemail paths to the prospect become hellishly difficult to penetrate. Between the human gatekeepers and the electronic ones, today's prospects are very well insulated. Some screen salespeople out simply because there are too darn many of them, a multitude of people selling advertising this and marketing that. But others do so because experience tells them that most of these salespeople are a colossal waste of time: Given how easily prospects can access product information online, information that's often more accurate and useful than what they get from salespeople, why would any prospect take a meeting with a salesperson?

It's no wonder then that media salespeople called this their #1 challenge in our 2013 survey of salespeople and their managers, released in December. Among 12 significant stumbling blocks considered by the 256 salespeople who responded to our survey, getting the initial appointment with a desirable prospect ranked #1, selected as a top-three challenge by nearly half (45.4%) of the sample. The Center for Sales Strategy's staff of consultants and coaches were hardly surprised by this finding, as it aligns well with what we hear daily from sellers in the field.

But there's a group that was not so quick to agree that getting the initial appointment with a desirable prospect is a major problem faced by media salespeople: their bosses. We provided sales managers with a list of 14 challenges to rank, among them this one, and fewer than one in six agreed with their people that this was a top-three issue. Indeed, it ended up near the bottom of the sales managers' list of areas where improvement was most needed. With publication of this report, we have put managers on notice that this is a much bigger problem for most of their people than they have heretofore realized, and hence ought to be a higher priority for management action.

The ways media companies nail quality appointments with desirable prospects—together with the related issue of how they find prospects in the first place—are overdue for a radical re-think. The landscape has changed quite radically: New media options, new ways of measuring effectiveness, new technologies for sales interaction, marketing services displacing advertising in ways never before possible, it's truly a whole new world. Media companies approaching their prospects in the same ways they did 30, 20, 10, even 5 years ago are losing ground. And they're at constant risk of losing their best salespeople to organizations that are doing business under today's rules, not those of yesterday.

The changes required go deep: Sales department structure, internal workflow, job descriptions, and performance expectations all must change if a media sales organization is to be successful in today's selling environment.