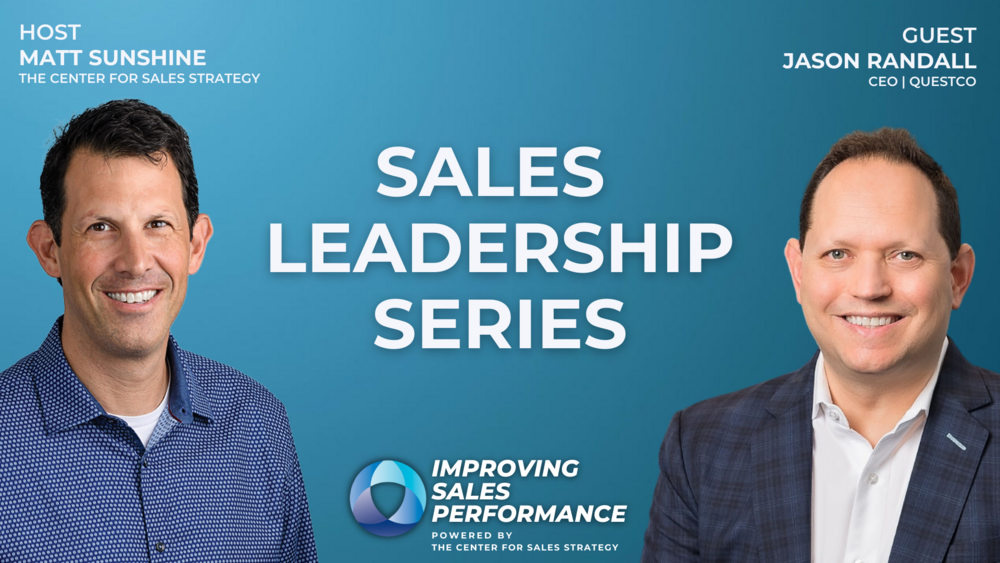 Throughout the entire fourth season of the Improving Sales Performance series, host Matt Sunshine will talk to leaders, CEOs, Executives, and authors about their businesses and how they improve revenue performance.
The series kicks off a Sales Leadership Series where Matt Sunshine discusses sales and executive leadership tips with Jason Randall, CEO of Questco and author of, "Beyond The Superhero: Executive Leadership For The Rest Of Us."
Tune in now or keep reading for a brief overview!
About Jason Randall
Jason is a business leader with a gift for inspiring successful teams. He has a resume that he says nobody would ever build by design.
Jason studied accounting at the University of Missouri-Columbia, became a CPA for an international firm, then left to start a small franchised businesses with a lifelong friend.
After taking time out to earn an MBA at the Kellogg School of Management, Jason plunged into the corporate world at Goldman Sachs and Boston Consulting Group before eventually becoming director of brand marketing for Maritz.
In 2005, Jason became CEO of an e-commerce company, where he was introduced to the concept of outsourcing human resources as a client of Insperity. He later joined Insperity, a company with more than $4 billion in revenue, serving as a vice president and managing director.
In 2018, Jason was named CEO of Questco, a Houston-area HR outsourcing company known for its can-do spirit and award-winning customer service.
About Questco
Through numerous outsourced HR services, Questco has served the small and mid-sized business community for over 31 years. "These businesses add so much economic value to our society, adds great value to our community, and these are businesses, in many ways, are under-served and outmatched by large company competition in many ways," Jason adds.
So many of the challenges these businesses face involve their people – whether it involves attracting the right talent to enable growth, retaining the critical team there, or making sure that costs are in line. Doing all of these things that can be really quite extensive, intimating, and perhaps beyond the skill set of an entrepreneur or as a leader.
"The reason Questco exists as an outsourced HR organization is to enable a small business or mid-sized business, with a stroke of a pen, to outsource and bring in expertise and capability across all essential areas to grow a business with regard to its people," Jason explains. "Outsources HR services are important to companies who are In growth mode."
The History Behind Beyond a Superhero
During the livecast, Matt asks Jason what compelled him to write this book, and give a little background on it.
"the Forbes team reach out to discuss a concept that I myself found compelling as a new CEO," Jason tells. "I felt reasonably prepared with a lot of the things I learned in school. What I felt less prepared for were the human and emotional elements of assuming this role of greatly broadened responsibility."
As the CEO of a company that's private equity owned, there's a deeper responsibility of needing this skill-set. "I felt like I was lacking how to prepare a mindset for leadership, and most importantly, how to avoid some of the pitfall that can lead to problems. That was the motivating impetus to move forward and try to contain my own thoughts with the book."
Jason also gives some insight into the first chapter, "In the eye of the storm," where he talks about the importance of culture. "Fundamentally, Questco is a care-taking organization — what that means is we're here to ensure our clients aren't along in the challenges they face. How can we be a caregiver outside our walls if we aren't that authentically to each other?"
What is the CEO Superhero Trap?
During the interview, Jason explains the CEO superhero trap with a metaphor. "In today's society, there's a lot of attention given to photoshopped physical images, and it sets and unrealistic beauty standard."
Jason explains how this is a direct analogy when it comes to management, and how there's a dysmorphia that takes place in te business world. "When you read in the popular press about very large enterprises, it usually comes down to a single personality, or a single person - so much so that in certain cases, when you talk about a certain company, a name or a person's face comes to mind."
It's important that we're both kind to ourselves, and realistic that we cant be it all, do it all, and know it all.
"If you fall into this trap of thinking, you're going to have a lot of problems being happy day-to-day, and also being effective and being able to scale because you're going to be limited by your own calendar, your own skills, and ultimately your own shortcomings," states Jason.
Fly It While You Build It
This chapter of "Beyond The Superhero: Executive Leadership For The Rest Of Us" is an acknowledgement that even the best laid plans will not survive the heat of the workday. "As opposed to being upset, disappointed, and stressed, let's embrace it. Let's use principles of improve and flexibility — and have the mindset to iterate on the fly," states Jason.
For those in sales, what sales call every runs accordingly?
If you're a sales leader, what budget is attained according to the right plan?
"It just never happens, so this chapter is my way through storytelling some of the things that's happened in my career. It's a refreshing concept that helps us cope and actually thrive as leaders."
The reality is when you start with a plan, you have to be able to adapt to changes.
From this, Jason also details the sales process at Questco and how the sales team adapts quickly to the changing environment.In terms of getting appointments with new prospects, he advises sales leaders and teams to do three things:
Manage activity.
Arm your sales force with rich content.
Have a referral generation mindset.
Data from The Center of Sales Strategy tells us that 91% of clients are happy to give a referral, but only 11% of salespeople ask for referrals.
Tune in now to hear the details!
How Do You Find Salespeople?
The work from home, work from anywhere, and the hybrid workplace are all causing a lot of job shifting in sales.
With "The Great Resignation" in mind, Matt talks about how businesses are putting time and effort into hiring and filling their talent bank. He also asks Jason how Questco finds salespeople and what they look for when hiring.
"We have a very relaxed geography," he explains. "We also have hiring profiles and believe in using a talent instrument . This is a great conversation starter to help explore the candidates strengths and weaknesses. We also look for different backgrounds; if they're coming from the industry or not, we're receptive to both."
For more information about Questco, visit www.Questco.net, where you'll find a wealth of information on the industry and what makes them worth of a conversation!
To learn more about "Beyond The Superhero: Executive Leadership For The Rest Of Us," visit meetjasonrandall.com
Don't miss another episode of the Improving Sales Performance series where Managing Partner Matt Sunshine speaks with thought leaders, experts, and industry gurus, who share their insight, tips, and knowledge on various topics that help companies improve sales performance.
Subscribe to our YouTube channel, and have your notifications on so you're notified of our next episode!