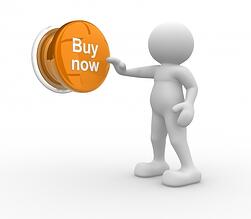 As Social Media continues to mature, they continue to search for new ways to engage consumers and drive revenue. Two weeks ago, Pinterest and Instagram introduced similar features aimed at accomplishing both goals and these new options could be game changers for businesses and consumers.
The first "buy now" button is the Buyable Pin that was introduced by Pinterest on June 2nd. The new feature will allow users to purchase products without ever having to leave Pinterest—when they see a blue Buy It button. If you live in the United States and use an Apple device, you will begin seeing the new feature in a couple of weeks. According to the company's blog, you should be able to discover over 2 million Buyable Pins on your iPhone or iPad by the end of June. Android users will have to wait a little longer to see the new Buyable Pins.
On the same day, Instagram announced plans to launch new features of their own for businesses that would also consumers to take action within the app. Their Shop Now button is similar to Pinterest's new Buyable button. It also allows consumers to buy products that they discover on a sponsored post within Instagram. Joining the Shop Now button are Install Now, Sign Up, and Learn More options that will allow businesses to promote their products and services within the social network.
The ability for consumers to make purchases as they discover products within their favorite social networks seems like a natural progression. Before these additions, consumers could find new products, but to purchase them required more steps, possibly risking the sale. So it should come as no surprise that Pinterest and Instagram are focused on making the process easy for marketers as both these sites and their clients seek to drive revenue.
Who will be next? I can't predict who—but I bet this is a trend we will see more of in the future.