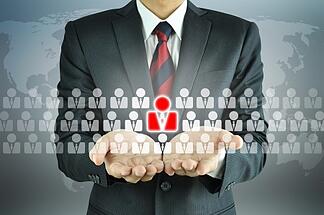 We've all heard of Customer Relationship Management (CRM), and most sales organizations are using CRM software of one kind or another. One intent of CRM is to make sure no clients or prospects "fall through the cracks." It's a neat piece of software that helps the sales team make sure they are calling on prospects with sufficient frequency, suggesting upsell opportunities, and learning the buying cycle of existing clients. Sometimes the CRM system can even automate the process of corresponding with the customer.
And now, many of those customers are automating their vendor relationships.
Have you experienced "Vendor Relationship Management?" If you've been stung by any of the following practices, you've run into VRM:
The human gatekeeper who is paid, in part, to protect their executive from most "typical salespeople."
The habit of sorting quickly through traditional mail or email, swiftly discarding anything that is from an unfamiliar sender.
The instant deletion of voicemail messages from pitchmen or ignoring calls from people not recognized as a contact.
In more extreme cases, the formal process by which you must apply to join an approved/preferred vendor list before you will be considered for future RFPs.
When you're preparing a business approach, it is imperative that you consider the prospect's Vendor Relationship Management strategy.
Should your approach include (rather than end-run) the gatekeeper?
Does the subject line of your email defend it from the fate of swift deletion?
If your call is answered by a voicemail system rather than the human you seek (as the majority of calls are), have you prepared a strong, concise Valid Business Reason that will survive the prospect's voicemail sorting habit?
These are useful questions when you're the prospective vendor facing VRM. But let's go a little bit further. Just because you're already the selected vendor and serving the customer, it doesn't mean the customer is no longer interested in VRM—in managing their relationship with you. Just as you want to manage the customer, so too do they want to manage you and the business relationship you have.
Help Your Customers Manage You
It's in your business interest to help them manage you, because it makes them a more satisfied, more delighted customer, which means they're likely to stay with you longer. Let's consider VRM systems that are designed to improve and amplify the customer's interaction with a company.
iTunes is a great example. That's not just an e-commerce site; it's my music relationship manager. Delta.com (and the Delta Airlines app on my phone) is another; with the tools they offer, they've put a travel relationship manager in my hands. Beyond the ability to book my travel, I can opt-in for email or text notification of special deals, travel tips, or real-time notification of flight delays.
What is the magic in this? Apple and Delta don't market to me by constantly bombarding me with special offers and sales hype. They make me want to come to them.
Now, take a look at your website. What does your company do to help your customer manage their relationship with you? What are you doing to invite that relationship? Anything? Or is it little more than a contact name, email address, and phone number? That may no longer be compelling enough. In the old days, a salesperson was the sole decision maker about who they would sell to. In 2014, the customer has greater influence over from whom they will buy.
Increasingly, the companies that do well are those who make partners of the customers they serve, and offer systems to let the customer manage that relationship. They offer tools and resources to their customers that add value to the relationship, before the relationship has even begun.
I can envision a day when most B2B companies offer their customers an online dashboard or mobile app that helps the customer give more input into the business relationship. (Many companies, of course, have been doing it for years.) From that dashboard, customers will give you insight into what they want, what slight modifications might they like to make, and how often they wish to receive correspondence from you. The process need not be complicated nor automated… just a system that empowers the customer and encourages them to come to you.
Until that day, a solid Inbound Marketing strategy is one way to get started now. In its most basic terms, an effective inbound plan provides tools and resources to your prospects, and gives them a way to reach out and say, "I'm ready for more."
We're going deeper into the age of Vendor Relationship Management, in which the customer will have greater influence over who they will and will not see. That need not be a scary concept… if you're working now to become and remain the preferred vendor.
Do you want 52 weeks of Inbound Marketing tips and tricks? Sign up for Inbounders Weekly -- it's free!