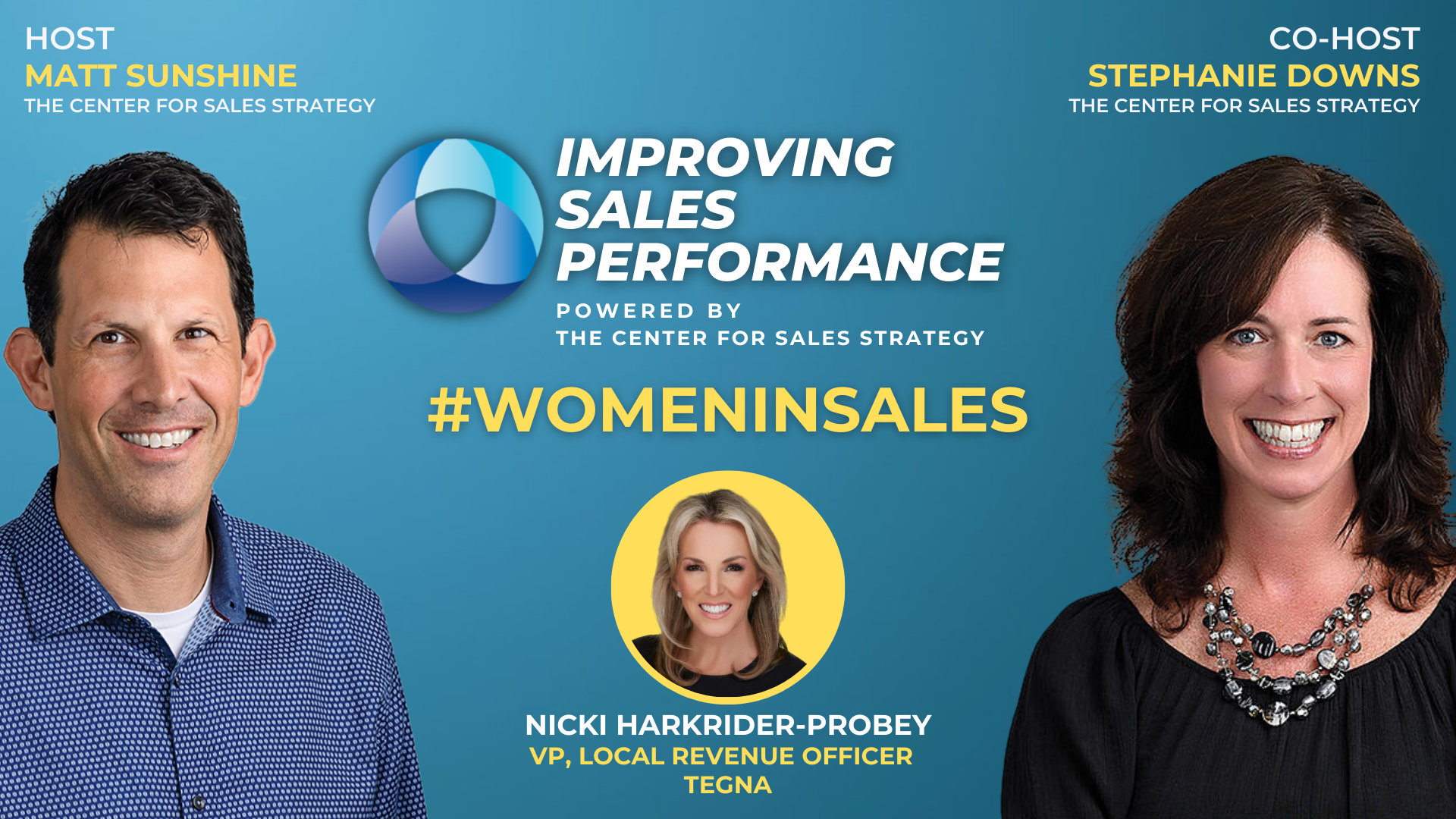 The Center for Sales Strategy is excited to announce the premier of Improving Sales Performance, a podcast highlighting tips and insights that help sales organizations realize and maybe even exceed goals.
This season, host Matt Sunshine and co-host Stephanie Downs celebrate Women in Sales Month by talking to some amazing women sales pros.
When it comes to improving sales performance, these ladies know how it's done. Tune in now or keep reading for a brief overview.
About Nicki Harkrider-Probey
Nicki Harkrider-Probey is VP, Local Revenue Officer for TEGNA, where she's responsible for driving television and digital revenue while also transforming the sales organizations of 64 TEGNA-television stations.
Harkrider-Probey leads all efforts that drive sales transformation, business development, and the development of the people who sell for the TEGNA sales organization. She joined the TEGNA corporate team as Vice President of Sales in August 2016 after serving as Director of Sales at WFAA, where she also served as Director of Local Sales.
Prior to her role in sales, she was the owner of her own business, Real Marketing, where she was contracted for marketing consultation for companies in DFW.
What Indicators Show That A Sales Organization Is On Track?
To start the show, Nicki is asked to explain how she knows a sales organization is on track.
"Through the lens of a sales department, not management, we look at a dashboard that highlights all of the areas we have responsibility for as a team. If we see a lot of green in all responsibilities, it's an immediate visual that the department is healthy," she explains.
Nicki also explains how it's about the percentage of sellers that are all experiencing success. "This is a reflection of the high bar that the sales department has. It's a reflection of the depth of their team and also a reflection of a great culture where new employees can learn and grow."
When you see a dashboard with high percentages of green, you know you have a great culture where people want to work. As Matt points out, consistency of measure across the board is vital and valuable.
Big Rocks for Sales Managers to Acknowledge
Great management begins and ends with YOU, so it's important to take time to strategize what being a great manager looks like.
A Big Rock may be, "Learn more about motivating already successful salespeople," or "Get better at filling my Talent Bank."
With this in mind, Nicki is asked what high priorities sales managers should pay attention to these days.
"Right now, managers need to be unbelievably focused on engagement," she states. "We are in such a difficult time, post-Covid and getting teams in a rhythm again; so much has changed in our world – as we're trying to move forward in a different environment, you have to be more engaged than ever. You must rebuild an engaged team."
The conversation continues with this in mind – that leaders have to be focused on engagement in a very intention way. This means engagement with every person and the team as a whole. "It's important to have high levels of engagement, recruit people who share the same level of engagement, and retain people with high engagements," Nicki explains.
The Past, Present, and Future of Sales
With all the changes in the world and industry, sales managers have a lot on their shoulders. What do sales leaders have to have to be successful today?
"Purpose in what you do," states Nicki without hesitation. "You have to have a purpose in what you do every day to help drive yourself and the team to the future. There is a strong level of commitment that is necessary from leadership today, and people need to see that commitment to move forward."
Due to uncertainty, leaders have an important role in creating a vision for the future and conveying that vision so that they bring people with them. "The best leaders are resilient in fatigue, and they galvanize their team through the right communication and a strong sense of purpose."
Nicki also states that the future is very optimistic, and leaders can paint that picture, but it takes the mindset of a leader to do that. "It's more than skills, talents, and goal performance."
For thoughts and details on how sales departments will evolve or change in the next three to five years, listen to the full podcast. Also, listen to the advice that Nicki has for new sales leaders!
Recap
To briefly recap the conversation between host Matt Sunshine, co-host Stephani Downs, and guest Nicki Harkrider-Probey, here is what the conversation entails:
Build a great place to learn, work, and grow – and as a sales leader, you'll have a great culture.
The key to a great culture is consistency.
Engagement should be the number one focus for sales managers.
Leaders today need to create, share, and convey their vision for the future.
Resilient through the fatigue of change – you have to accept change and see the opportunity in what's ahead.
"Leaders that have a lot of intuition or great instincts have a special way to lead the vision and people in engagement today," states Nicki. "Reacting in this environment is not healthy. Understand what's going on with someone even if they haven't said it. The ability to connect and have great people instinct is absolutely critical to solve problems and grow and learn."
Don't miss another episode of the Improving Sales Performance podcast, where Managing Partner Matt Sunshine speaks with thought leaders, experts, and industry gurus, who share their insight, tips, and knowledge on various topics that help companies improve sales performance.