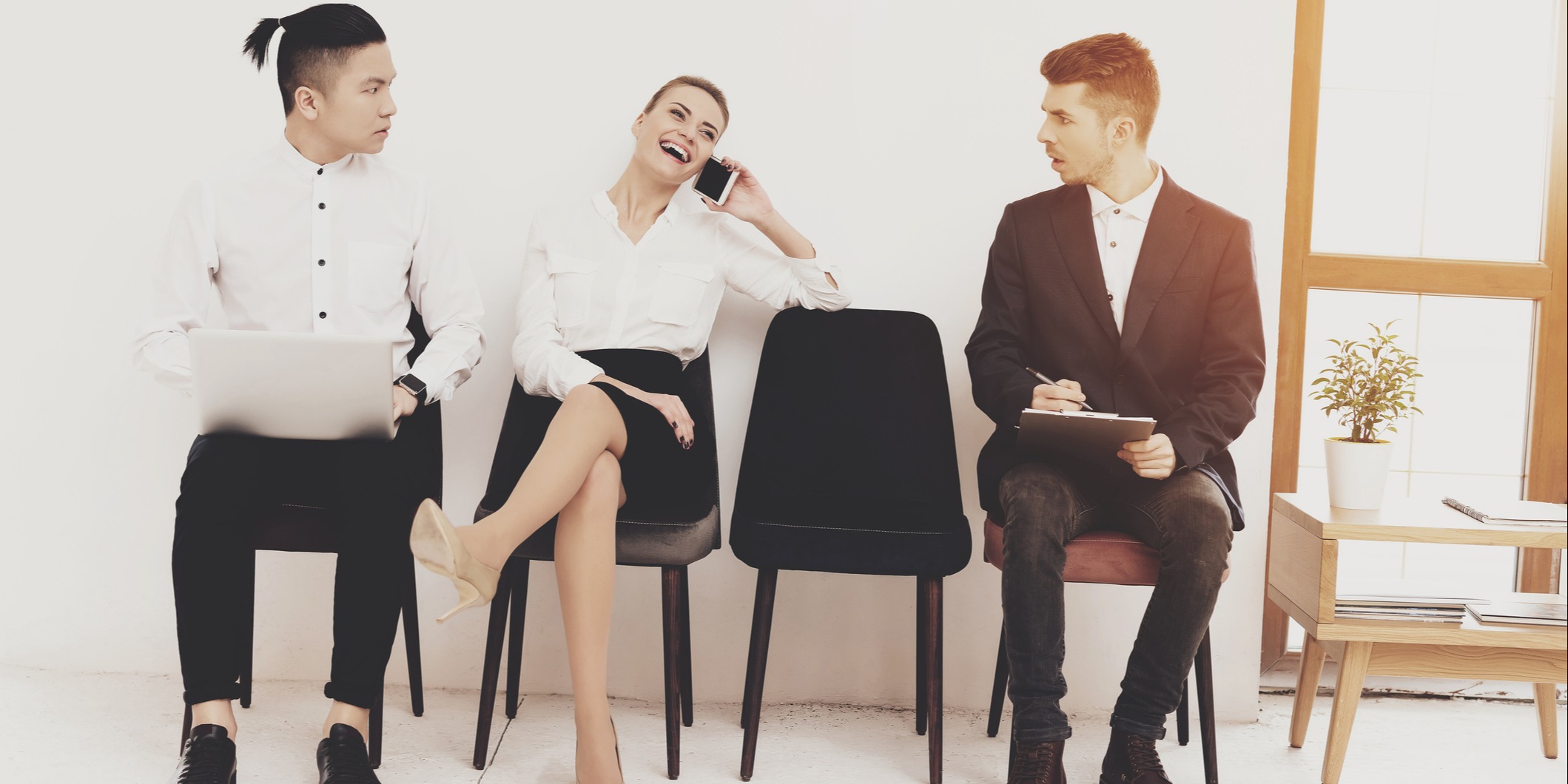 Clients calls, webinars, team meetings, staff meetings, one-on-one's with a coworker, prospect meetings — we're spending a lot more time online.
Video conferencing etiquette and attire are certainly not a new topic for many professionals, but it's a new reality for millions.
How you portray yourself, whether over the phone or on shared-screen calls, represents both you and your company. It's important that we present ourselves just as well virtually as we do in-person. In an effort to improve your phone and video etiquette, and ensure the person on the other end receives an excellent experience, implement the best practices outlined below.
5 Ways to Improve Telephone and Video Conferencing Etiquette
1. Pay Attention to Timing
If it's a video conference and you're a participant, join 3-5 minutes early.


If it's a video conference and you're running it, join at least 5 minutes early (more info on this to come!


If it's a phone-in conference call and you're a participant, join the call 2 minutes early.


2. Avoid Noise and Distractions
Coworkers may not notice or care if you're wearing jeans instead of a suit while you're working from home, but that doesn't mean your clothing will not be distracting to some. Experts identified the biggest video conferencing etiquette mistakes, and ranking number one is dressing inappropriately.
If you're a heavy breather, mute your screen or your phone.
Lower the volume on your computer and cell phone, so the "dings" are not a distraction.


Refrain from typing on your keyboard during a call

—

especially if you are using computer audio or the phone speaker. While it seems quiet to you, others can hear you, and it's distracting. Even though you may be taking notes, it often sounds like you are responding to email and not engaged, so if you need to take notes, mute your phone.


Watch unconscious audial ticks like clearing your throat or sniffing incessantly. Some of these things are habits you may not realize you've developed, and they can be very distracting for others.


If you are on an internal call, check with your coworkers to ensure pets are welcome. If it's a client call, make an effort to keep your pets out of the room or quiet during the call. Best practice is to keep dog treats at your desk.


Remember that cell phones amplify some background noises like running water and suitcase wheels clicking. Try to eliminate those when possible and mute when necessary.


Avoid checking email while on a call or video conference. The person (or people) you're talking with is seeking value and insight from your call

—

you need to be fully present.
3. Don't Make Rookie Moves
Don't forget to mute your phone during a video conference call and accidentally have a conversation with someone else.


Don't forget to unmute your phone or audio before you speak on the call. Everyone will think you were dropped from the call and you will waste lots of good information that no one will hear!


There are things you can do in-person that don't work well on a call like nodding and saying "umm hmm" as a way of agreeing with people. That can be very distracting.


4. Practice Advance Planning
If you're having a shared-screen meeting:



Get on the call 3-5 min in advance. If you haven't been on the platform recently, you may be required to download the most current version and you don't want to be the one that shows up late because of that.


Test your tech in advance.


Have what you plan to share already on your screen before anyone joins.


Close Outlook entirely so meeting participants can't see your email message pop-ups.



If you're leading a call with coworkers, discuss your specific roles in advance so it flows seamlessly and there are no surprises.


If you're using your cell phone, make sure you are somewhere with good cell service.


If you must do a call from a busy environment, try to find the quietest place possible and apologize in advance at the beginning of the call.
5. Bypass the Unpleasant
Don't go to the bathroom during a call. You may not think people can tell you are in a bathroom

—

but they can.


Don't eat while you are on the phone or on a video call

—

or at least hit mute!
Use these tips outlined to solidify your video conferencing experience and start getting more out of your calls. While it may seem trivial, details such as these on every phone, and video call, matters! Without giving proper attention to the way you speak and present yourself to the other person on the end of the line, you could miss out on the potential revenue, vital information, and much more.