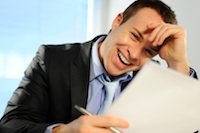 Recently I heard a veteran seller lament, "I'm getting my butt kicked, I think it's time to move beyond being a features and benefits seller." My response was simple, "Welcome to 2011, and here are five reasons you should:"
1) If customers don't know your features and benefits by now, they are clueless. Your time is too valuable to waste on clueless clients.

2) In these trying times, customers have more problems than they know what to do with. They need to know how you can help them, not why they should buy your product.

3) Customers are too busy to listen to you drone on about your product. The way to be relevant is to listen, and offer solutions.

4) Customers care more about themselves and their problems than they do about you or your products.
5) People that sell solutions are more marketable. Sell more, and make more money.
As I told the veteran seller, it's never too late to move beyond features and benefits selling and make the move to selling solutions—teaching customers how to use your product to solve their problems. It's a simple shift in sales strategy that will seriously impact your sales.
Kurt Sima is a VP/Senior Consultant at The Center for Sales Strategy.