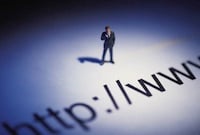 One thing I'm always surprised about is how few sellers conduct an informal audit of a prospect's website and social media presence prior to meeting with a prospect for the first time. You can learn a lot about a company from their website... or lack thereof.
Reviewing the following before the first appointment will provide clues to some areas of questioning you should explore:
Search for the client on Google and Bing. Where do they rank? First? Third? Five pages in? How do they rank on their own business name? What about within their own product category in your city?
Review their website to gather clues on how they are currently using digital. Does the site inform or educate? Are they generating leads? Setting appointments? Do they appear to have a newsletter or a social media strategy in place? Based on what you see, what areas of their business are most important to them?
Check out some of the top review sites, and conduct a search on Twitter to see what their customers are saying about them. Both positive and negative feedback can be helpful when identifying your client's potential needs.
Take a look at the sites of their biggest competitors. What is the competition doing that your prospect is not? What do they do well? How does your potential client compare? What can you tell about each brand based on what you see?
By taking the time to do this research, you will be more prepared than the majority of sellers who call on your prospects. When you ask tough, informed questions, you will build trust and credibility… and you'll uncover needs your competition couldn't.
For more ideas on how to improve digital sales performance, download 8 Ways to Monetize Digital Revenue.
What kind of digital sales secrets do you use? Please share in the comments below!
Kimberly Peek is a digital sales coach and online trainer at The Center for Sales Strategy