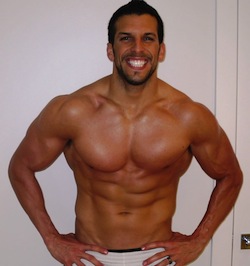 Crazy. Brave. Passionate. Confident. These are the words I would use to describe Drew Manning, the personal trainer who embarked on a journey to go from fit to fat to fit again all in a year's time. Drew spent the last six months gaining nearly 80 pounds, and on Monday, he will begin the process of taking it off. I just heard about Drew yesterday, so I'm a little behind. However, I'm fascinated by this story, and the social networking and professional branding takeaways.
As I've perused his social media sites, blog and website, I've read comments from medical professionals who think his plan is dangerous. (It is.) I've read comments from people who think it's a PR stunt. (It could be.)* But mostly, I've read comments from grateful people who can't believe a man with an Adonis-like physique would "let himself go" so that he can empathize with his clients and reach those who need to hear his message.
Professional branding and social networking takeaways from Drew Manning's Fit2Fat2Fit journey:

1. Know what you stand for. Drew says he has always been fit. Fitness has been a lifestyle choice for him since he was 17 years old. Even as he went from fit to fat, Drew made it clear he intentionally gained weight and stopped working out so he could empathize with his clients… and because he hoped he could inspire others to make life changes.

2. Be genuine. Watch the interviews. Read his posts. Drew is sincere. He is charming. I would love to hang out, exercise… meet him for a spinach shake… be his friend! (And, he's betting you will too… on Facebook and Twitter!
3. Be bold. Take risks. About three years ago, I lost 50 pounds. I know how hard it is to lose weight. I'd never gain 80 pounds (or even 15) to prove a point. But that's just what Drew did. He has the confidence to be bold and make his point in a big way. If he didn't, it's likely he'd be another invisible trainer struggling to get his message heard beyond his home gym's walls.
4. Use photos and videos. People want the behind-the-scenes scoop. This plan would not have ever come together without the use of photos and videos. He uses before and after photos masterfully; his own body will be a walking testament to the power of nutrition and exercise. Through the use of photos and videos, his fans and followers feel like part of this unfolding story.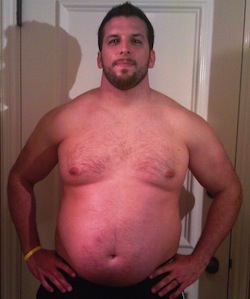 5. Engage your community. Drew documented the fit to fat phase of this story weekly, using photos, videos and updates on his blog. Those who were early followers watched his body change shape week-by-week. He got readers involved early on by allowing them choose his weekly food challenges, and then he posted videos of himself gorging on the high-fat American favorites his followers selected.
6. Build a community. Comment back. He got people talking. He built a following of people who love him and what he stands for. He commented back, at least in the early days before the whole thing skyrocketed. (We will see… I think his lack of commenting now is one mistake he's made. But, as he says in other parts of his site, he has a lot of responsibilities: he has a full time job; he's a husband, a father, a coach… and fitness is just one part of his life.)
7. Get people involved in your STORY. Think about the elements in your favorite books and movies. They probably all have: a memorable character (DREW!), a challenge the character must overcome (To gain, and then lose weight), suspense (Will he succeed?), and character growth and change (We're watching Drew transform physically and emotionally before our eyes!) Story is what makes people care.
8. Give people content they want to share. Most likely, Drew started off with a core group of friends who were willing to share his story. The Fit2Fat2Fit experiment would have never gained momentum without a story others were willing to share with friends, who shared with friends, who shared with more friends. Social media content does not get beyond your core group of followers unless it's compelling.
9. Use some PR tactics when necessary.** I don't know the inside scoop on Drew's story or how he gained national media exposure. What I do know is that if you have a solid story, and someone can benefit from your knowledge, expertise or experience, and you have a social media strategy in place… what you have to say could be considered newsworthy.
10. A cause sure doesn't hurt! Drew is asking followers to donate to the Alliance for a Healthier Generation through a fundraiser he's calling Pledge for Pounds. While I'd never endorse affiliating with a charity solely for personal or corporate gain, aligning oneself with a charity that shares a common goal is a great idea… if you can help each other succeed. In this case, I think it also helps Drew's credibility. Nowhere on his site has he asked for money for himself or sold a single product (yet).

I'd love to hear your take on this social media phenomenon. How can you put these social media and professional branding lessons to work in your sales organization? Share your ideas in the comments below!

A few footnotes:

* I am quite certain Drew will eventually see a big time payday from this. He has a huge personality and seems genuine. What's not to like? What better way to prove the value of the methods he teaches his clients, than to take the risk himself?

** It is possible he already has a book deal. One of the contacts on his website is Suzanne Wickham, whose LinkedIn profile says she is the Senior Director of Publicity at HarperCollins. Even if the current media frenzy is driven by a publisher's PR department, Drew has done a lot of things right. Drew is a good story. People like him.

And friends... a piece of advice: If you want someone to follow you on Twitter, complete your profile! I have gained a lot of Twitter followers since I started Tweeting about Drew. I know very few people who follow people with incomplete profiles.