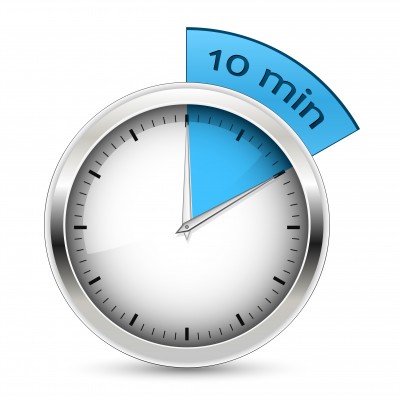 A salesperson walks into a restaurant and asks for the owner. The owner peeks around the corner and invites the salesperson into her office. The salesperson walks in, puts down his bag and extends his arm to shake her hand. Before he could articulate his greeting, she says, "You have 10 minutes to give me your sales pitch!" If you're in sales, you might have heard this before. It's frustrating… and instantly intensifies the interaction and the relationship between the buyer (owner in this scenario) and the seller. Basically the buyer is saying, "I'm busy and I don't believe you will be able to benefit me or my business in any way. So, I will give you 10 minutes (just to say that I did)… so you will go away!"
If you've been greeted by your prospect with this statement, following are 3 serious problems with your sales process.
1) Failed Approach. You can't walk into your prospect's office for the first time and expect her to give you one hour of her valuable time without first establishing value, credibility and trust. That would be equivalent to a guy walking up to a girl he's never met in a restaurant and asking her to go on a date the following weekend. If you're Ryan Gosling, you have a solid chance to secure a date… after all, we all know who he is. But if you're Joe Blow, your chances are slim to none that she would oblige. She has no idea who you are or what your intentions are. You must first establish a certain level of value, credibility and trust before securing that first date… or in business, that first meeting!
2) Ignorance is NOT Bliss. The notion "what I don't know, won't hurt me" does not apply to salespeople! The exact opposite is true… your level of expertise can easily get you through the door OR it will keep you knocking forever (if you have the tenacity). So if you want to secure that first meeting, you better have a Valid Business Reason. And that reason needs to be about their business NOT yours. With that being said, if you have a significant level of expertise in a certain field, industry, or business, make sure your prospects know it. If they believe you truly understand their business, they are more likely to believe that you can help them grow and/or solve some of their most challenging problems. That deserves way more than 10 minutes of their time!
3) Perception is Reality. High performing sales people know you don't "pitch;" rather you collaborate with your clients to create customized solutions based specifically on their needs, goals, strategy and budget. If a salesperson finds himself at the receiving end of this statement, he has likely done a poor job positioning himself as a business partner who is committed to delivering a customized solution/service. Pitchmen get 10 minutes, business partners get invited to the boardroom again and again.
At The Center for Sales Strategy, we work with salespeople across the country in multiple industries, and we know it's tough out there… even for the most talented salespeople. In order to stand-out, establish credibility, earn trust, and showcase value, a salesperson must commit to the sales process. That means the willingness to prove their knowledge, value, credibility and trustworthiness to their prospects. A salesperson who can do those things early on will be able to regularly secure meetings, with prospects who block out the necessary time for a purposeful meeting, and are actually looking forward to meeting with them! Prospects will view the meeting as valuable time to help them grow their business, rather than a distraction. These salespeople will be greeted with, "It's great to see you" instead of, "You have 10 minutes to give me your sales pitch!"
Quick Thinking Solution: The next time you're greeted by a prospect with, "You have 10 minutes to give me your sales pitch!" Don't panic… and for goodness sakes, don't pitch! Try responding with something like this:
"I completely understand you're pressed for time and have an extremely busy schedule! I hear that from my clients pretty frequently. I don't want to add any more pressure to your time today, so let's schedule a time for me to come back when it's better for you. Plus, I honestly don't have anything to pitch you. I'm not here to sell you anything, I have expertise in (prospect's industry), and I want to talk to you specifically about (insert details about his business, competition, sales, systems, processes, etc.). I have a few concepts/ideas/services I'd like to introduce you to that I think you'll find interesting and valuable. I need about an hour of your time, and you have my word that it will be well worth it."
To learn more about the proven sales process we use at The Center for Sales Strategy, download How Selling Steps.
Demrie Henry is a Performance Consultant at The Center for Sales Strategy