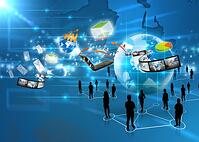 This year marks the 20th anniversary of the first text message. Sent on December 3, 1992, the first text went from a PC to a mobile device over Vodafone's U.K. network and read, "Merry Christmas."
A few years ago psychiatrists named the first social media addiction disorder. Less than three years ago Pinterest launched its website. In March this year, Pinterest served up 2.3 billion page impressions to over 4 million unique visitors a day.
So what can we expect from social media in 2013?
So much has evolved in how we engage with others online and via mobile devices. You can now buy a smart phone for $1. Facebook and Twitter aren't even 10 years old yet but some can't remember a time without it. Staying on top of and understanding the potential marketing value of social media is a way to understand and improve digital sales.
For more entertaining and incredible stats on the explosion of social media, check out "Social Media Video 2013" posted by Erik Qualman via YouTube.
Improve your sales performance when you are on the go!
Kim Willoughby is a Senior Consultant for The Center for Sales Strategy
Connect with us!